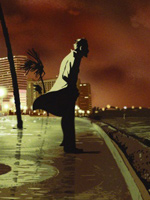 I'll have a post up later today running a comb through my final predictions.  Tomorrow we'll showcase all contributor picks (as well as the "Who deserves it?" poll results), but for now, I thought I'd share my pain with the readership.
By pain, I mean last minute jitters, those creepy, crawling, gut-twisting thoughts that leave you in a haze over what to pick in this category or that, even if a frontrunner is staring you in the face.  There are a number of categories doing this to me this year.
First and foremost, I've been on the precipice of picking a "Slumdog" sweep for nearly two weeks now.  Nathaniel Rogers has been bold enough to go there, but I haven't allowed myself (yet) to think the Academy will vote for the film in the Best Sound Editing field.  However, as a multi-nominated sound mixer friend told me, members generally just vote for their favorite film throughout the crafts categories (much to his own chagrin many times over).
I also found out last night that the only films that reached the Cinema Audio Society in screener form were "Quantum of Solace" and…"Slumdog Millionaire," which makes their vote a bit difficult to chalk up as comprehensive.  Maybe "The Dark Knight" and "WALL-E" are still very much in the mixing race and the Best Picture frontrunner will lose both statues.  But this is just one example of the insanity that flows through my mind this time of year.
Another thought is all the bad "Reader" press lately and how that may or may not affect Kate Winslet's chances of a win in the lead actress category.  Many have chalked Meryl Streep up as the competition, but there have been murmurs for some time that Melissa Leo is a prized commodity in this field.  Sasha Stone is spit-balling the possibility today as well.  She's got people like Dustin Hoffman out there singing her praises.  And her film is a welcome point of variety in a slate of expected nominees (both here and in the original screenplay category).
And don't even get me started on that field.  I think I'll stick to my guns and predict "WALL-E," because it seems to me that original scripts as by-the-numbers as "Milk" (no matter the Best Picture nomination) haven't won in quite some time.  "Most" original seems to dominate, and really, "Milk" almost seems like an adaptation of something doesn't it?
But the last time a film won here that wasn't nominated for the big category was 2004 when "Eternal Sunshine of the Spotless Mind" predictably beat out "The Aviator."  But I feel like "Milk" has a bit of the original screenplay flavor of "The Aviator" and "Gangs of New York," somewhat broad, epic stories that lose to more intimate, creative pieces.
That documentary feature category still has me wondering (though I may not have the courage to bet against "Man on Wire" in the final analysis), while the foreign language film field is raising more question marks than you might think.  Given a general bias against nontraditional filmmaking, I could easily see "The Class" reign supreme.  And publicity has kept all eyes off of the Japanese entry "Departures" (try as I might, they wouldn't send me a screener and it's the only nominated film I haven't seen).  I know it's an extremely conventional film and there are those who think it can upset.  First press screening is Feb. 27, not that that does me any good.  (UPDATE: Within the last hour I've nailed down a copy of the film and can give it a look, so perhaps the foreign predictions will wait a spell.  Most think "Bashir" is still the winner but this flick has a lot of voters talking, I'm told.  I'll put up an analysis of the category tomorrow.)
The Best Supporting Actress category still has room for an upset, most people thinking that it's Viola Davis threatening Penelope Cruz's perch.  That talk has snowballed in the last week or so, and some even think Marisa Tomei has an outside shot.  Personally, I see no reason to bet against Cruz at this point, bu the fact that she is the lone representative of her film across the board puts her in dicey waters.  And "the numbers," for what they're worth, seem to indicate an upset for Taraji P. Henson.  Talk about up in the air.
Then there are the short categories, which have some people picking the doc "The Witness from the Balcony of Room 306" because it's about Martin Luther King and this is "the year of Obama."  They're picking it without having seen the film, mind you, and to my mind, "The Conscience of Nhem En" is the most attractively assembled of the bunch.  Most are coming to the consensus that "Toyland" will reign out in the live action short film category, while you'll get any number of guess on the toons: "Presto," "This Way Up," "La maison en petit cubes," you name it.  I might stick with the latter.
But no one's doubting a Heath Ledger win, right?  Right?  Well, as someone close to the production of the telecast told me yesterday, I expect people will be tearing seats out of the Kodak if that goes a different direction.  But I have to say, I'm feeling more and more confidence in Mickey Rourke, as are a slew of others.
Most industry talk swarms around one key point: I hope there's a surprise.  Many people (even those who love the film) are bored with the "Slumdog" train and want to see some excitement injected into the proceedings.  That just leaves us to wonder whether the membership at large was thinking the same thing when they put pen to paper to mark their ballots.  It also leaves a guy like me pulling his hair out at 10:08 am on a Thursday morning for no good reason.
So it goes…
I'll be back later today with fresh final charts and a rundown of my picks in all categories.