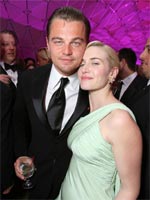 As one of this year's nearly-nominated figures recently remarked to me (and I'm sure they'll forgive me for quoting them): "The best place to enjoy the Oscars has to be at home in PJs, wrapped up in many a duvet with a large mug of sweet tea … a look which I doubt I could have quite pulled off on the carpet."
It's a philosophy I subscribe to as well — though admittedly one's celebration options are somewhat limited when when the Oscarcast takes place in the wee small hours of the morning. However, it seems that this year, many of Hollywood's finest could discover for themselves the low-key, home-made delights of home Oscar parties, as the economically panicked industry scales back on the famously lavish post-ceremony bashes, limiting the guest lists and dropping the accoutrements. As Variety reports:
Balancing modesty with glitz is no easy task, but award season veterans are definitely seeing some changes this year. Saturday's seventh annual Night Before party at the Beverly Hills hotel benefitting the Motion Picture & Television Fund is cutting out the gift bags, and it is not holding the Friday night pre-event as in years past.

After more than a decade at Mortons (and then no party last year), Vanity Fair has moved to the Sunset Tower for its viewing and after-party. The mag says the "invitation list has been cut down considerably," but a permit filed with the city of West Hollywood said there would be between 800 guests over the course of the evening.
OK, so they're not suffering that modestly. But apparently Elton John's AIDS Foundation dinner will have no after-party, while entourages and security will be denied entry. That's slumming it, by Hollywood standards. Seriously, though, I'm glad to see the industry taking reality into account to some extent. It's all about the movies, after all, or it should be — so if the glossy magazines have to make do with fewer Oscar-bash celeb snaps to choose from this year, that's no bad thing.
Meanwhile, if any stars feel like hopping across the pond and joining me for my traditional post-ceremony breakfast — I do great blueberry pancakes — I can make some room on the guest list.