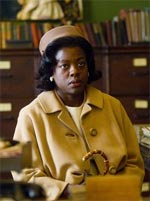 Dave Karger has posted a list of ten potential "shockers" that he thinks could (however faintly) foreseeably shake things up on Oscar night.
Many of them have been raised before, and are suitably fanciful. Though I've said before that there is a logical case to be made for Melissa Leo leapfrogging both Kate Winslet and Meryl Streep to the Best Actress award, it's safe to say that the odds are firmly stacked against that happening. Meanwhile, while the "'Benjamin Button' goes 0-for-13" theory has been floated around before, it's difficult to see how it could lose all three of the technical awards in which it is deemed a lock. So those outcomes would certainly count as shocking in some measure.
Some of Karger's ideas would definitely be upsets, but not necessarily "shockers." As I've written before, I'm joining him on the same limb in predicting a Best Foreign Language Film win for "The Class" — but that category is so prone to upsets, it's almost more of a surprise when things go according to plan. And I know I'm not the only one seriously considering Viola Davis in the frequently topsy-turvy Best Supporting Actress category — she's not the favourite, sure, but it wouldn't be a jaw-dropper of Marcia Gay Harden proportions.
Some of Karger's supposed "shockers," however, wouldn't even count as upsets to me. He lists both the possibility of "Slumdog Millionaire" making a clean sweep of nine awards, and "The Dark Knight" getting only one statuette — which are really co-dependent on each other, since the sound awards, as far as I can see, represent "TDK's" only other shots at victory. (Cinematography, I think, sailed with the ASC.) And since "Slumdog" just nabbed the CAS award, would that be so very unexpected?
The one on Karger's list that really surprised me, however, was a Best Actor win for Mickey Rourke. It's well-known by now that this is a neck-and-neck battle to the finish between two beloved performances that have evenly split the major Oscar precursors. In the latest Gurus of Gold chart, Penn leads Rourke by a single vote. I think we can honestly say by now that either result would not be a surprise at all. Now Frank Langella … that would be a shocker.