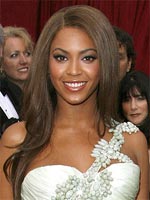 Following yesterday's thrilling/indifferent/perplexing (adjust according to age) revelation that Robert Pattinson is a likely presenter at Sunday's Academy Awards, Sasha Stone has excavated some further hints as to who to expect on stage — and it seems Beyoncé Knowles, "High School Musical" tweens Zac Efron and Vanessa Hudgens, as well as young "Mamma Mia!" duo Amanda Seyfried and Dominic Cooper could all be in the mix.
Beyoncé is a bona fide megastar and has been a regular fixture at the Oscars for some years now, so that at least makes sense. But what's with the excessive pandering to the (pre)teen demographic? Do that many of them really watch the Oscars? Maybe they do — I'm just asking.
But isn't the inclusion of one pretty-but-sexually-unthreatening vampire a sufficient nod to the demographic? Efron on his own could be bearable, but let's not kid ourselves into pretending that Hudgens, Seyfried and Cooper are movie stars just yet.
With names like these, perhaps the whole "secret presenters" thing was just a ploy to avoid scaring us off.