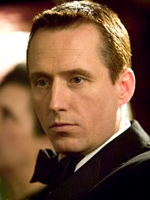 The folks at notstarring.com have put together a list of the year's Oscar contenders and the stars who turned down opportunities to star in them.  There is, of course, Nicolas Cage in "The Wrestler" and Russell Crowe in "Australia."  Heath Ledger is also mentioned for the latter (somehow I didn't know that).
"The Curious Case of Benjamin Button," given its lengthy gestation period in Hollywood, had a slew of names attached: Steven Spielberg, Spike Jonze and Ron Howard in the director's chair, Tom Cruise, John Travolta and Rachel Weisz in front of the camera.
Those of us who follow Batman casting decisions closely know all the names that pop up in the "Dark Knight" section, though somehow I never realized Linus Roache was going to reprise his role of Thomas Wayne in flashbacks.  I feel like that would have worked and been a nice element to tie the film more closely to "Batman Begins."
There are plenty others to read through, including Matt Damon and Chris Evans being considered for the roles that eventually went to Josh Brolin and James Franco respectively in "Milk."  There's even a beefy section on "Wanted."  Go have a look.