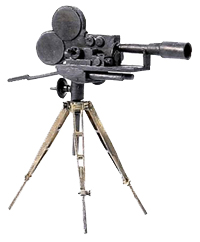 Yesterday was the first of our two-part look at the crafts artists behind "The Curious Case of Benjamin Button." Today, I feature conversations with cinematographer Claudio Miranda, visual effects supervisor Eric Barba and film editors Kirk Baxter and Angus Wall, who have all received Oscar nominations for their work on the film.
When asked about the enormity of the project, Wall rhetorically asks, "'How do you eat a whale? One bite at a time.  The metaphor we always used is that we always look not at the peak but our feet. It was a two-year process and you have to be sure of every decision you make every day because it affects the end project."
Miranda admits he was intimidated by the task of breaking down the script. "I had to just try to imagine how this would be realized on screen," he says, "going through each task at hand, devising a plan for all the different looks, especially with some things on blue screen."
Barba was especially scared that the main character would have to be created by visual effects for the first 50 minutes. "We had to make it work or else it wouldn't be believable," he says. "I had to think of the enormity of having to do what up until now hasn't been done."
As regards the man at the helm, Baxter agrees with his colleagues who were featured yesterday that David Fincher is "extremely helpful and very very clear. He knows when to be loose and when to be a lot more specific. He's got great intuition on what his crew needs from him."
Wall adds that Fincher is "kind of a draining director to work with as an editor because he's so specific. But he knows when to back off and he gets us 95% of the way with blocking and performances. We don't need to find the movie because he's already given it to us."
Barba adds that, with visual effects, Fincher constantly has his eyes on the end result. "From the beginning, he tells you exactly what he wants," he says.
But it is clear the artists also worked closely with each one another to bring the film to life. Miranda talks extensively about his collaborations: "At the Nolan house, Victor [Zolfo, interviewed yesterday] and I just placed things around and started asking what the natural light would do to the room. Don Burt and I had a lot of conversations about practical matters from ceilings to fabric. The visual effects crew and I needed to work together so that we could prepare for Brad's head to eventually be put on the actor playing young, or should I say old Benjamin."
Baxter remarks that, near the end of cutting, there where points when screenwriter Eric Roth came in and he, Wall and Fincher would watch the film together.
"To get Eric's point of view was kind of illuminating," Wall says. On the issue of other behind-the-camera artists, he says that "David has a tendency to work with same people time and time again. So relationships with the D.P. and the production designer are built over time. We've done a bunch of panels so it's a nice opportunity to realize that you better be making good choices in the editing room because we can't miss a moment of everything all these people have done."
Says Barba, "Claudio, David and I have worked together for quite a while.  We get along great and we communicate.  Claudio is very good about taking care of the visual effects needs.  A lot of the crew were on both 'Zodiac' and 'Benjamin Button' and we'd shot commercials before so we all knew each other.   As far as [makeup artist] Greg Cannom is concerned, I would go up there and give them input on stuff because so much of our work was tied together."
The crew nonetheless recalls particular challenges they encountered.  The editors in particular, who describe themselves as "two days behind the shoot," were concerned about the first third of the movie, where they had to wait for Pitt's aged face to be superimposed on the dwarf actor who provided the motions for Benjamin.
"We put in a black spot where Brad's face was eventually going to be so the first third of the movie seemed so flat because we were working without a lead performance," Wall says. "We had to be confident that the flatness would be removed."
Baxter and Wall nevertheless relished working as co-editors, which is relatively rare on Hollywood features. "I love it," Baxter says. "I see it could work poorly if you don't get along with the co-editor but I seek Angus's input and I'm curious about what he's doing."
Says, Wall, "I've had collaborations before but this was the most productive.  We were very honest and generous.  It was an organic way of working and there wasn't really a method as to how the movie was approached."
Barba says the most difficult task was "keeping the team motivated for two years and keeping them together for a common goal. We had really talented and motivated people working together for these shots and this character.  The opportunity for disagreements was immense.  We were fortunate they never blew up."
As far as the "Hollywood experience" goes, however, many of these craftsmen seem content to be far away from the center of it.
"There's a lot of people I get calls from that don't have a great reputation and might be different and I choose not to work with those people," Miranda says. "I take work from people who aren't jerks. I love working with David and people I have in the past."
The editors, in particular, comment on their need to be somewhat detached. "I never go on the set," Wall says. "As fun as it is to go to the set, our job is to be unbiased and you lose that when you head to filming."
If you see "a wide shot that took two days to shoot and 50 extras to support the actor, you're going to want to make sure it's included," Baxter says. "But sometimes it has to be cut, no matter if everyone else hates you for it."
Walla dmits that "if you want glory, it's not the right job  If you want satisfaction, it's a great job.  Walter Murch said, 'If you stop seeing yourself, that's right.'  When the audience becomes immersed, they aren't looking at the editing and that means the editor has done his job right."
Barba admits that there are times he feels under-appreciated.  "The visual effects people in Hollywood have come in behind all the other folks," he says.  "However, I'm not complaining.  There is a pecking order here and complaining about it is futile."
While all four artists have received more acclaim on this project than anything else to date, that is not what they say they will most take with them into the future.
"What was really valuable on 'Benjamin Button' was that it was blessed by a great script, great direction, great production design and great talent on screen," Miranda says. "All of those are so important; it made my job easier and I am so thrilled with everything that followed."
The editors speak fondly of the relationship with each other. "The collaboration with Angus was amazing," Baxter says, "and I hope to repeat the same formula as otherwise I'd miss it."
The joy of the work "will be the big memory," Wall says. "I kept telling myself to step back and enjoy the process, and I did. I really did."
Barba also takes a personal approach, having been very affected by the story he helped bring to life. "In a lot of ways, this story is reflective on me and even the artists working on it because of the subject matter," he says.  "It's not a fantastical movie with amazing special effects.  It's ultimately about a man and how he deals with time and relationships.  It makes one reflect on one's own mortality, relationships and inevitability."
TECH SUPPORT INTERVIEW: The crafts of 'Benjamin Button,' part one