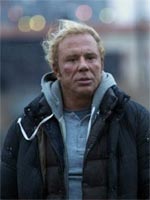 Over at USA Today, Susan Wloszczyna has come to the conclusion that, in a fairly weak year for film with a less-than-competitive Best Picture slate to show for it, the performance categories are where it's at this year:
The real action this year is in the acting. Sets were chewed with delicious relish and scenes were snatched with delectable finesse, even if the films themselves have underwhelmed.

"I look at my ballot and see all these amazing actors," says an overwhelmed Donna Gigliotti, a producer on The Reader and a trophy winner for 1998's Shakespeare in Love. "It's just staggering. That role was a game changer for Anne Hathaway, nothing that anyone expected from her. And Melissa Leo in Frozen River? What is she, 48? Her nomination just made me want to stand up and cheer. Richard Jenkins is such a fabulous actor. And Taraji P. Henson is the soul of The Curious Case of Benjamin Button."
I'm inclined to agree. Though I still think the Academy dropped the ball in some areas (Best Actress, in particular, could have been a far richer and more diverse race had the likes of Sally Hawkins and Kristin Scott Thomas been invited), it's true that, while 2008 hasn't been as rewarding for auteur works as some previous years, we've seen a lot of films either wholly constructed around their performances ("The Wrestler" being a prime example) or saved by them (for my money, Anne Hathaway and Rosemarie DeWitt are the most focused elements of "Rachel Getting Married").
The result is, I think, that people seem a lot more invested in this year's acting races than the ones for Picture or Director — and it's not just because the latter two are foregone conclusions. (Let's face it, there's not much more suspense in some of the acting categories, and I think you know what I'm referring to.) It seems to me that the performances of 2008 have been more complete, complex and adventurous than the films — in some cases, the very films in which they appear.
Best Actor is the best example. After four straight years of crashingly dull one-way coronations in this category, we have a genuine race between two colossal performances, both from fascinating outsider figures in the industry. Sean Penn and Mickey Rourke's respective fans are fiercely devoted and passionate — I've seen and heard more heated chatter from people (in person and online) defending their man here than from anyone discussing their Best Picture favourite.
Similar verbal duels are ongoing between Teams Kate and Meryl, with a constant back-and-forth debate about who is more "overdue." (The correct answer, of course, is Melissa Leo. Hee.) And even in the one race where only one name is being mentioned, Heath Ledger's performance in "The Dark Knight" represents the kind of unusual conversion of iconic audience appeal and actorly heft that the Academy rarely gets a chance (or indeed, makes the choice) to reward. The race may not be exciting, but the winner is.
Returning to Wloszczyna's article, she gets an interesting quote from an academic's perspective:
"Besides Clint Eastwood in Gran Torino, the performance from last year that will stand the test of time is Rourke's," says Jeanine Basinger, head of film studies at Wesleyan University. "It's one of pain and grace, a rare combination. There is an authentic feel."
Laying aside my personal doubts that people will remember much at all about "Gran Torino" in years to come (but hey, I've been wrong before), she raises an interesting question. Which of this year's performances have the potential to become future standards?
I agree about Rourke, but am also convinced that Ledger's work will be with us for a very long time … with or without the personal pathos attached to it. I find it harder to imagine any of this year's nominated females leaving a similarly indelible impression upon history (not least because many of them have, in my opinion, done more impactful work before), but I could be mistaken there too. I do suspect, however, that we may wind up recalling more actors from this awards season than we will do films.