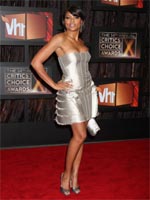 Admittedly, it's a little difficult to feel any sympathy for Oscar nominees when they discuss their frantic awards-season schedules. Oh poor you, it must be such a pain in the ass having to attend fittings for your free designer gown, or to attend yet another dinner held for the sole purpose of celebrating your wonderfulness.
But if anyone can make such trials seem relatable, it's Taraji P. Henson, who could just be the year's most loveable nominee. Here, she shares her own schedule from the past week, and she's clearly loving every minute. I love the girlish enthusiasm she expresses here about the red-carpet rigmarole:
"She knows how to work it," (stylist Mary) Norton says. "She won't give herself that credit, but it's why designers want to work with her. She doesn't just walk a red carpet, she owns it." Henson giggles at the very thought of it. "Well, I think it's that ham that comes along with being an actress! I still to this day play dress-up. My son will come in my room and will be like, 'Where are you going?' And I'm like, 'I'm playing. Get out!' I've been playing dress-up all my life," she says, stopping to laugh again. "But it's on a whole 'nother level now. It's gotten a little blingier!"
How can you not be happy for her? Work it, Taraji.