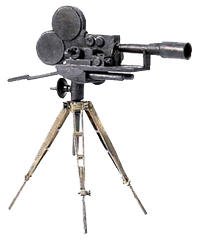 Thirteen Oscar Nominations.
Very few films in Academy history have achieved that status and, prior to this year, no film had secured that many nods since "Chicago" in 2002. But "The Curious Case of Benjamin Button" has managed it this year, largely because of the incredible work going on below-the-line.
Last week, I featured composer Alexandre Desplat and his role as film music composer on David Fincher's film. In the past week, I have spoken to cinematographer Claudio Miranda, production designer Don Burt, set decorator Victor Zolfo, costume designer Jacqueline West, film editors Kirk Baxter and Angus Wall, visual effects supervisor Eric Barba and makeup artist Greg Cannom, a healthy lot, all of them cited for their work on the film by the Academy this year.
Today, I concentrate on my talks with Burt, Zolfo, West and Cannom. Tomorrow, Miranda, Baxter, Wall and Barba will be featured.
"The Curious Case of Benjamin Button" is, without any doubt, a film extraordinarily reliant on visual attributes to be effectively told. The crafts artists acknowledge the intimidation poised by such a project.
"'Hmmmm…' is what went through my mind when David [Fincher] first asked me to do this," says Burt. "How in the world are we going to do this? Then I started going through the different periods in my mind and started building a plan, thinking maybe – just maybe – we could pull it off."
Zolfo – Burt's colleague on the set – also thought the project was intimidating but nevertheless full of potential. "There were too many exciting things," he says. "For instance, I got to develop a house for eight decades. For a set decorator, that is very exciting."
West, on the other hand, remarks on the personal experience this film had for her. "I felt family albums were a great place to start," she recalls. "I had made such an album for my husband's family a couple of years ago. You can see how the integrity of a character remains the same through various eras of fashion; I sought to capture that through the different threads I designed."
After the script, however, there is a general acknowledgment that the director took charge of the project.
"He really knows what he's doing, and what he wants." Cannom says of Fincher. "He's tough but he knows good makeup."
Cannom's description of the specificity of Fincher's vision is not unusual. "When I went for my interview, I had a certain sense for the feeling he was going for with this movie," West says. "He has very strong ideas about these characters and their looks. We always seemed to be very much on the same page."
When I asked about his collaboration with this particular director, it was clear that Burt was worried about descending into hyperbole. "I don't say this lightly," he begins, "but in all honesty and truthfulness, I've never collaborated with someone as easily as I do with David. He's specific, he knows his script and has purposefulness to what he's doing."
Despite Fincher's control of the crew, there are a number of issues where the crafts artists felt that they had to turn to each other – to realize their director's vision.
Cannom, in particular, remarks on his relationship with the visual effects designers. "They had to base everything on what I was doing," he recalls. "They had to wait until I finished the various makeup designs for both aging and sculpture. Because we were working together is why it works so well."
"We were all in constant touch," West says. "David expected me to be in touch with Don Burt. He works in a very tight color palette and I had to stick to that. Instances such as the red dress and the yellow coat – where David and I wanted Cate to stick out – were extremely rare times I could deviate from that."
Says Zolfo, "As always, there's a need to have important dialogue. We shared a huge warehouse in New Orleans and thus we had to see each other there constantly, though we obviously would have wanted to anyway."
The artists all had the additional task of working in ever changing time periods. "With contemporary films you tend to go shopping in stores," West says. "In period films, you stop in the costume houses, take each character 'shopping,' imagining how the characters would have shopped. Dressing them for different eras doesn't change that approach."
She did acknowledge that her approach often created different results for the characters. "We wanted to have Brad and Queenie a bit behind the time because they were poor," West explains. "Brad would have collected hand-me-downs. We actually would use some of his clothes on other characters in earlier scenes.
"Cate, in the world she was living in – New York, Paris and Moscow – would have had fancier clothes available. Coming home to visit a quiet, subdued place wouldn't change the clothes she wore. She wanted to be glamorous. If you go for veracity, it's never jarring."
Burt also comments that he "always set the film in 'the day' in which it is set. But the 'day' in 'Benjamin Button' kept changing so it was very research-intensive."
Zolfo agrees that more research is required for a period film. "I try to find an original of a particular prop we're looking for," he says. "It's a great frame of reference to have and even if it's prohibitively expensive, at least seeing it can be invaluable."
He adds, however, that he personally prefers to do period to contemporary films, finding them much easier. "In a period film, you have a lot of points of finite reference and you can be very specific of what you're showing the director," he says. "For a contemporary film, there is no judge of that."
The artists also remark on the challenges they encountered on the production, such as working with well-known actors in Cannom's case. "It's difficult to age them really well and still make it look like them," he says. "We needed to get believable makeup that they can work with. For Cate in particular I didn't know if I was going too far. When you're dealing with actors as strong as Brad and Cate, that's terrifying."
Zolfo and Burt both cite logistics as their major obstacles. "I had eight decades of stuff in my warehouse," Zolfo exclaims, while Burt notes that "simply keeping everything straight in my head was a huge challenge, not to mention I was often commuting between New Orleans and our studios in Los Angeles."
In addition to the magnitude and timespan of the story, West cites costuming Brad Pitt's character as being her biggest challenge. "I normally compare characters to individuals from a time period," she explains. "But I could not base this character on, say, Jimmy Stewart or Gary Cooper because they were older in the '60s than in the '40s. So I had to conceptualize differently for different time periods – I used Stewart and Cooper in the '40s, Marlon Brando in the '50s and Steve Queen in the '60s. All were out of sync with their time but still were icons."
As far as "being in Hollywood" is concerned, the nominees seem to put that secondary to their work.
"I admit there can be petty fights among makeup artists," Cannom says. "I fought tooth-and-nail to get Colleen Callaghan on the ballot with me this year and when Wes Wofford did not get on for 'Bicentennial Man,' I was furious. There's a small group in the makeup branch in the Academy who votes as to who gets on the tab. As far as I'm concerned, it's political. I've been trying to get that changed for years but you can't let that stuff distract you from your work."
Says West, "I used to own my own fashion company and every movie, it's like starting a company over again. It's not really that different a job. As far as the Hollywood experience is concerned, I never think about that. For me, the question is if it really is storytelling. I was a literature major and an art history student and I admire writers so much. I want to do the best to realize the film's story."
Burt says simply, "I love my craft. There is something so wonderful about making sets for film and being there visually to help tell a story. It's sort of like being part of the art world, where theatre and art come together."
Coming to Hollywood "was a big change in approach," Zolfo says. "I think we're really fortunate as set decorators. We don't get sucked into a lot of stuff that above-the-line people do. At times I can feel underappreciated. It depends on who you're working with. Some producers and directors may not appreciate the importance of set decoration. But at the end of the day, that can't distract me from my work."
There are makeup artists "with amazing egos that love being in front of the public," Cannom says. "But I like nobody knowing who I am; I like my privacy. When I do a film, I throw everything in a room and close the door for six months. The Oscars is when I really feel part of Hollywood. I still remember one time I stood beside Audrey Hepburn. But I feel so fortunate to get to do what I do. When I created the bat creature for 'Dracula,' I felt I had created one of the great movie monsters. Luckily, people come to me and I feel so lucky I get these films," he says, amazed that his career has included titles such as "Titanic," "Mrs. Doubtfire," "Dracula" and "Hook."
"I have worked with directors who are very collaborative," West says. "Terrence Malick, David Fincher and Philip Kaufman make me feel like I am truly collaborating with them at every stage. That's what I want. I don't feel the need to be in the public eye."
What you take away from a film is "the experience working with people you have around you," Burt says. "People in our lives are around us, day in and day out. I'll also take away the wonderful opportunity to work on a project that did have the scope that it has. All the producers were truly supportive of the vision of the film and the purpose."
Says, Cannom, "it was an epic film. It's like 'Titanic' – one of few films in my career that I thought, 'This was huge,' and from an aging perspective, I'd never done anything like it. I was particularly amazed how the visual effects and the makeup blended in. I feel you can look at it and not know what are visual effects and what are not. It reminds me of 'The Mask,' which I was working on just as 'Jurassic Park' came out and transformed visual effects. This film was another step in that direction for me."
West, however, notes the personal effect the film had on her. "It really made me think about time and the passage of it and connection to family and other people," she says. "It will always remind me of the nature of our human relationships and mortality."
The work of these four artists is not only featured prominently in their films but the Academy clearly took note this year. I would not be surprised to see many or all of them collecting Oscars next weekend.
TECH SUPPORT INTERVIEW: The crafts of 'Benjamin Button,' part two