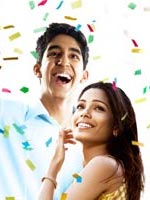 As we all know, this was a(nother) exceptionally good weekend for "Slumdog Millionaire," as it nabbed a quartet of technical guild trophies, from the cinematographers, editors, art directors and even, in an especially unlikely coup, the sound mixers. With just the costume designers left to weigh in, this means that Danny Boyle's film has not come up empty at a single guild ceremony all season — it is an unprecedented hot streak.
With voters seemingly incapable, on any given ballot, of not checking the box alongside the word "Slumdog," the film suddenly poses a very real threat of nabbing 9 awards, sweeping every category in which it is nominated at the Oscars. Nathaniel Rogers, for one, is predicting such an outcome, and thinks that the key to everything lies in the usually unheralded sound categories:
It might sound odd to say but I believe these are the key categories of the night. If they announce them early and they both go to Slumdog Millionaire we have a sweeper on our hands and you'll watch it win all 9 of its categories. If it loses both it will likely be a more traditional night when several film get a couple of statues each. But these two categories are clearly where Slumdog is most vulnerable to defeat. Voters could also opt to improve WALL•E or The Dark Knight's statue total … (But) the biggest problem for both the robot and the batman is, I fear, each other. Which might have also been the case in the best picture nomination battle.
I completely agree. The two sound categories are among the races causing me the most head-scratching as I finalise my predictions. As a technical feat of sound design, "WALL-E" would appear to be the connoisseur's choice, but the fact that it was passed over by the guild raises a questionmark. "The Dark Knight" fits the same "acclaimed action movie" profile that netted "The Bourne Ultimatum" a brace of wins here last year. But aren't the Academy members who don't know much about the craft, but do love "Slumdog," simply going to check off the film's name twice more?
There's a chance they could divvy up the sound awards, but technical history suggests otherwise to me. In the 27 years that Best Sound Editing has been a competitive category (they previously had an on-off Sound Effects award), they have never split the two awards between two films nominated in both races — which is the case for all three films. I'm fairly sure that whichever film wins one is also taking the other home.
Which makes, for me, Best Sound Editing the real one to watch. Why? Because "Slumdog Millionaire" doesn't at all fit the profile of a typical winner in this category, which almost always favours loud, action-heavy fare. It's not unusual for a Best Picture juggernaut to carry Best Sound Mixing along in its sweep, but the other, previously narrower, category tends to be more selective. If "Slumdog" can win that, it can win anything.
By comparison, its other seven categories look like a doddle. I think we can safely say that Best Picture, Director, Adapted Screenplay and Film Editing are in the bag, while Original Score and Cinematography (thanks to that handy ASC win) seem to be heading that way too.
Some still doubt it can win Best Song, but in a category that has repeatedly opted for the more left-field choice in recent years, "Jai Ho" (which I've been predicting since November) looks more like a winner to me than "Down to Earth." It doesn't hurt that it's become the film's rallying cry in recent weeks. All of only leaves the sound races to complete the sweep. I'm not convinced the voters will stop there.
Of course, the guild wins are a little misleading in one respect — unlike the Oscars, guild awards allow their voters but a single category in which to honour a film, meaning the massive contingent of "Slumdog" fans can converge there. Since the Academy Awards allow voters to pick and choose the categories in which to express their affection, which in recent years has led to numerous of mini-hauls of 3 or 4 gongs. In a year this weak, however, with the competition so undivided, I think we may just see "Slumdog" run unopposed.