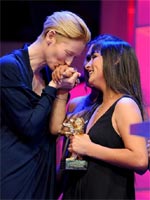 Perhaps it's an indication of an unusually low-key festival, or perhaps (more likely) I've been too distracted by the steamrolling Oscar season, but either way, I'm a little disturbed that the Berlin Film Festival wrapped up this weekend and I am barely familiar with most of the prizewinning films.
I had heard some positive things about "London River," a culture-clash drama from "Day of Glory" helmer Rachid Bouchareb, set around the 2005 London bombings, that gathered some buzz for Brenda Blethyn's performance — but ended up taking Best Actor for Sotigui Kouyate.
And I was aware that "Sweet Rush," which shared the Alfred Bauer Prize (which rewards "new perspectives," apparently), is the latest from Andrzej Wajda (though word is it's not one of his best), while I remember the Best Screenplay winner, Iraq-themed US indie "The Messenger," gathered some notice at Sundance.
But I must admit that the winner of the Golden Bear, "The Milk of Sorrow," skipped my radar entirely. The sophomore film from female Peruvian director Claudia Llosa, it's a solemn-sounding effort about the lifelong trauma inflicted on a child of rape — or, if you want the more sensationalist pitch, a woman with a potato in her nether regions. It seems to have attracted mixed notices — Variety's review admires from a distance, but Screen International finds it "mannered" and "contrived."
Of course, one would expect a jury headed by avante-garde arthouse queen Tilda Swinton to favour the international and the eccentric, so none of this is really a surprise — especially given that they'd made clear their intent to reward politically charged work.
In any case, the Golden Bear truly hasn't been any indicator of international success of late — the last few winners include "U-Carmen eKhayelitsha" (which really deserved a higher profile), "Grbavica," "Tuya's Marriage" and "Elite Squad." I have a feeling Llosa's film isn't going to have much more luck crossing over, but we'll see.
Full list of winners after the cut.
Golden Bear: "The Milk Of Sorrow"
Alfred Bauer Prize: "Gigante"; "Sweet Rush"
Grand Jury Prize: "Gigante"; "Everyone Else"
Best Director: Asghar Farhardi, "About Elly"
Best Actress: Birgit Minchmayr, "Everyone Else"
Best Actor: Sotigui Kouyate, "London River"
Best Screenplay: Oren Moverman and Alessandro Camon, "The Messenger"
Silver Bear for outstanding artistic contribution: Gabor Erdelyi and Tamás Székely (sound design), "Katalin Varga"
Best First Feature: "Gigante"
Special Mention: "The Girl (Flickan)"