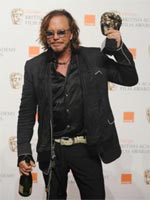 Aside from two major precursors, it's been a slow week for news — which leads to a lot of prediction second-guessing.
• "Slumdog" swept at the BAFTAs, which also put new wind in Mickey Rourke's sails. We live-blogged it here.
• The "Slumdog" streak inevitably continued at the WGA Awards, where "Milk" picked up some hardware too.
• This week's Off the Carpet column was just eager to move on already.
• Taking a closer look at the often inscrutable Best Documentary Short race.
• Speaking of documentaries, we wondered if a win for "Man on Wire" is the foregone conclusion that people think it is.
• On a similar tack, do we have a real race in the Best Foreign Language Film category?
• In a bit of a blow to next week's Oscarcast, Peter Gabriel has nixed his participation.
• A survey of some of the industry's top DPs suggests that "Slumdog" looks like the one to beat for Best Cinematography too.
• Should we be mindful of a third possibility in the Best Actor race?
• Perhaps another underdog, "Frozen River," has hidden strengths in the competition.
• Away from the Oscar beat, the Berlinale continued its quiet progress, with Stephen Frears' "Chéri" possibly one to watch.