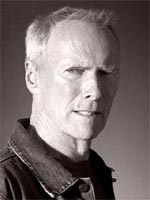 With the Best Actor race narrowing to a heated finish between Mickey Rourke and Sean Penn, it's easy to forget that Clint Eastwood was once very much part of the conversation. Of course, any such possibilities were sunk as "Gran Torino" became the first Eastwood in six years to come up empty on nomination morning. In a substantial interview in today's Guardian, however, Eastwood doesn't seem particularly fazed by missing out this time:
"I have had three films nominated out of the last five I've made. I just make the film the best I can. The rest is political stuff and posturing. I'm not terribly good at that. I think our message was as good as any message out there this year. There we are."
I imagine it's easier to be philosophical about such things when you have four Oscars on your mantlepiece already, and the film in question is still raking in the millions. However, as I read the piece, I got the distinct impression that "Torino" is very much a film Eastwood made for himself, rather than with designs on awards and critical kudos. (As it happens, interviewer Emma Brockes is refreshingly unfawning on her subject — though she likes the film as a whole, she isn't too awed to point out its flaws, including the star's own occasional "snarling and overacting.")
Of course, a more cynical take would be that he isn't bothered by his poor showing in this year's awards race because he has an ominously baity project in the pipeline — his thus-far vaguely defined Nelson Mandela picture — that could well feed the Academy's known penchant for ennobling true-life stories. As a South African, I must admit that the project has me nervous for all kinds of reasons, but amid the earnestness, Eastwood isn't above poking a bit of fun at himself:
When I ask who will play (Mandela), he looks devilish and says, "I'm going to play him. I'm going to show you my versatility." (It will actually be Morgan Freeman. "Perfect casting for Mandela.")
We will no doubt be talking further about this project when Kris offers his year-in-advance speculation on the 2009 Oscars later this month, so keep an eye out for that. In the meantime, read the rest of the interview here.