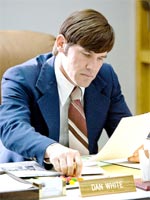 I like Josh Brolin a great deal, and I particularly like his performance in "Milk" — a courageous display of against-type delicacy and ambiguity that would be a worthy winner of Best Supporting Actor honours in most years.
Unfortunately for him, most years don't have the perfect storm of industry sentiment, audience popularity and landmark performing represented by Heath Ledger this year. Not to put too fine a point on it or anything, but I don't think Brolin — or anyone else, for that matter — stands a snowball's chance in hell of beating the late Australian. In a chat with the NYT's Baguette, however, it appears that Brolin himself feels differently:
"After what happened to Tilda Swinton last year, I think pretty (much) anything can happen… That was a surprise. It was. But again. Is it most deserving? Not necessarily."

Mr. Brolin said that as an Academy member who had voted for the first time last year he gained some insight into the whole voting process. "I think it's an important film and I think that goes into people deciding what they're going to vote for … It's a very strange process. It's very unlike what I thought it would be because suddenly you personalize it. You look at the body of work of the nominee. Lots of stuff goes through your mind."
For one thing, Tilda Swinton's victory last year wasn't entirely unanticipated, so saying "anything can happen" is a bit of a stretch. Upsets can happen, for sure, but there has to be some semblance of a crack in the frontrunner's armour, and I don't see one in Ledger's case. For me, this is as much a foregone conclusion as Daniel Day-Lewis last year, or Helen Mirren in 2006, but I give Brolin credit for not completely surrendering.
Not every pundit feels the same way, though. Perhaps simply downplaying her expectations due to her passion for the film, Sasha Stone has convinced herself that there is a "really good chance" Ledger will lose:
When everyone aligns behind one specific person that happens to star in a movie they didn't particularly like, no one watches over what they do in the privacy of their own home, sometimes weird shit can go down.  It would be really embarrassing for them but that is one gene they don't seem to possess: the ability, in large numbers, to be embarrassed by their choices.
I'm not buying it. The fact that pundits can't even agree on a conclusive runner-up — Stone, like Kris, thinks Robert Downey Jr is best poised to upset, but a number of people favour Brolin or even Philip Seymour Hoffman — is proof to me that no other contender has the momentum to overtake this express train. Ledger has this. Breathe, relax and take it to the bank.