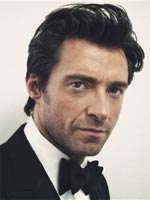 Hugh Jackman talks Academy Awards here, admitting he's a little biased towards Heath Ledger in this year's race (though frankly, who isn't?), and dropping more hints about the more intimate atmosphere promised at this year's Academy Awards:
Obviously I'm not a standup comedian and generally there's been comedians who are actors as well (who) have been doing it for the last however many years. So there's not the same pressure. I don't think people expect me to come out and do seven minutes of bang-bang-bang jokes. … They really just encourage me to do what I feel I do best. It's a night to have a feeling of celebration, of community.

The look of the theater is very different. It's more like the nightclub of your dreams. It's very intimate. … It's got to be a lot closer. It's been a little austere in the past. You know, there's that stage, the host being up above the stalls, looking down at everybody. … But this is a lot more intimate. It's still spectacular, being in the Kodak Theatre. But it's a real difference in the way things are laid out.
It sounds like a lovely set-up for the guests. I just hope they've given enough thought to how it plays on TV — what feels "clubby" to people in the room could feel remote to those watching at home. I do trust Bill Condon and Laurence Mark, of all people, to retain a sense of glamour and spectacle. And I still believe Jackman has the star magnetism to bring it home. But the sheer amount of changes proposed this year gives me the feeling this is either going to be a roaring success or a crashing failure. Fingers crossed.