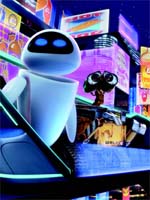 There's an interesting article in Popular Mechanics, in which several industry experts offer their own predictions in a number of technical categories. Like Kris' earlier post about the DPs' thumbs-up to "Slumdog Millionaire," it offers a perspective on the race that can widely differ from that of critics, audiences and even the Academy itself.
I've often wondered just how differently the tech winners would turn out if they were voted on by the individual branches rather than the entire Academy membership. I think it's likely that Emmanuel Lubezki would have a cinematography Oscar for "Children of Men," for example, or perhaps the costume design gong wouldn't always go to the film with the most opulent threads.
Here, sound mixer Richard Van Dyke and sound editor Brian Riordan both name "WALL-E" the clear winner in their respective fields, with the latter simply remarking, "If you mute 'WALL-E,' you don't have a movie … if you mute 'Slumdog' for five minutes, it's still amazing." Both men approve of the work in "Slumdog," while Van Dyke has some qualms with the mixing in "The Dark Knight."
There's an interesting conclusion in the makeup category, where artist Barney Burman's personal standout is "Hellboy II," though he rather surprisingly predicts that the general membership will lean towards "The Dark Knight," given how powerfully the makeup job supported Heath Ledger's performance.
Meanwhile, in the Animated Feature category, animation historian Jerry Beck offers an opinion that might to some extent explain the shocking results of the recent Annie Awards:
While Beck's personal pick is Kung Fu Panda, he's betting that WALL-E will win "because WALL-E might be perceived as superior," he says. "WALL-E looks like the progression of animation. It's critically recognized as a great movie and generally beloved. I believe animators know that Kung Fu Panda is the superior movie, but animators look at different things [than the general membership]."
So I keep hearing. I admit I'm far from an animation expert, but I fail to understand how "WALL-E" is a lesser feat of artistry or storytelling than "Kung Fu Panda." Can someone explain it to me, please? I'm interested. Judging from the results of today's poll, it seems most of you don't get it either. In some cases, perhaps it's just as well branch voting doesn't rule.