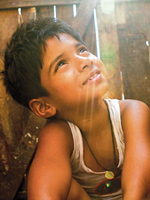 Over at Variety, Robert Koehler has put together a survey of sorts of some of the industry's top DPs to gauge their reaction to the year's work behind the camera.  It could be a nice hint toward what the ASC will chose as the year's best lensing, and judging by Koehler's results, Anthony Dod Mantle's "cherry on top of a career" efforts on "Slumdog Millionaire" gets the gold star.
It's really quite an achievement.  Even though I've long been on the record in favor of Wally Pfister's innovations on "The Dark Knight," I have to say Dogme 95 veteran Mantle broke unexpected new ground in Danny Boyle's film.  In lieu of an Oscar win for the highly deserving Pfister, I would be very content to hear Mantle's name called.
Here's a taste from Koehler's survey:
Mantle's "Slumdog" was "the biggest technical achievement of the year," says [Roger] Deakins, "because even though part of the film was shot on a 2K digital camera and part on 35mm, my eye could never detect the difference…it was quite a feat to maintain a consistent quality of image throughout."

Adds [Janusz] Kaminski: "I like cinematography that feels alive, and Anthony's work felt that way for me. The shooting got the sense of the Mumbai streets, the reality of the gameshow, the nostalgia of the romance."

Goldblatt agrees, noting that "Slumdog" was "a very adventurous mix of media, fun and beautiful and very courageous. I've worked in India as a photographer and know how tough it is there, so I was quite impressed with the results."

McGarvey "loved how Anthony thought about how the various formats he shot in would serve each milieu in the story, so that the images never patronized the characters. It was such a ride."
Koehler then goes on to say Claudio Miranda's gorgeous work on "The Curious Case of Benjamin Button" was close behind in his unscientific poll, followed by Pfister, who McGarvey says "can work on the grandest of scales but can also be terrestrial, and is able to provide an anchor to fantastical situations — a talent he shares with (director) Chris Nolan."
I was happy to see Maryse Alberti ("The Wrestler") and Hoyte Van Hoytema ("Let the Right One In") also mentioned, but hey, you've heard that kind of stuff out of me in this space over and over again. It's nice to see the trades pumping up their crafts coverage, since no one seems to be willing to give them the proper attention this time of year beyond the expected outlets (American Cinematographer, Below the Line, etc.).
For a crash course in the year's best cinematography, have a look at our Top 10 Shots of 2008 column from last month, laced with insights from an esteemed crop of lensers.