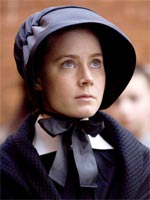 Tariq Khan thinks so. Tom O'Neil reports that the Fox News pundit is predicting a major upset by the "Doubt" star, largely on the basis of what he perceives as "soft support" for frontrunner Penelope Cruz.
Before you dismiss his ideas completely, it's worth pointing out that his track record is pretty strong — he foresaw Kate Winslet's category switch for "The Reader," and apparently predicted all of last year's winners correctly. Here, Khan constructs detailed arguments both against Cruz and for Adams, including this fairly astute point:
(Adams) has the largest role in this category. As I explained above, size does matter. Adams is the only one in this category with a semi-leading role. She has plenty of dialogue and good dramatic scene work, managing to more than hold her own while acting opposite Meryl Streep for much of the film. Don't think that voters won't take that into account. And while the much talked about brief performance by Viola Davis might have a greater impact, many will feel that it's just too brief to deserve an Oscar. Even veteran Ruby Dee lost for her small role in "American Gangster" last year, despite winning the SAG award just a few weeks earlier. If Dee couldn't win, there's probably no way that Davis can.
Other factors listed in Adams' favour include the possibility that voters may wish to convert one of "Doubt"'s four acting nods into a win, Adams' exceptional personal likeability and her significant box-office clout. Against Cruz, he cites her Globe and SAG losses (though I'm not sure I'd count those, given this year's odd Winslet scenario), her limited screentime (not to mention her delayed appearance) and the Academy's apparent indifference to "Vicky Cristina Barcelona" itself. (Not on his list, but a factor in my mind, is that Cruz looks set to have a big 2009, and may well be an even stronger contender for next year's honours.)
I agree with Khan that Cruz is far from a sure thing (I'm still leaning towards Davis myself), and his case for Adams is convincing on paper, except for one crucial point that he doesn't mention — her performance, while perfectly respectable, really isn't all that.
I find it hard to imagine that "Doubt" fans would be more moved by Adams' work than by Davis' brief but galvanizing appearance, whatever the difference in their screen time. Yes, the Brits nominated Adams ahead of Davis, but I can't shake the suspicion that many of them hadn't seen the film and were voting on name recognition alone.
I think it's very likely that Adams will have her day in the sun eventually, for several of the reasons mentioned by Khan. But this year? I don't quite buy it.