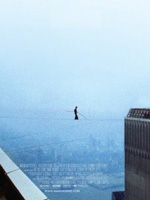 It often seems that when there isn't an obvious, populist pick in the Academy's documentary feature category (such as "Bowling for Columbine," "March of the Penguins" or "An Inconvenient Truth"), the field is rife for an upset.  Last year a number of awards watchers were sure that either "No End in Sight" or "Sicko" would walk away the winner, while maybe five of us new the power of "Taxi to the Dark Side" would prevail.  "Born Into Brothels" caught a few by surprise in a year that a great many thought would see "Super Size Me" take the gold.
"Murder on a Sunday Morning" over "Children Underground," "One Day in September" over "Buena Vista Social Club," it seems there is always something of a surprise waiting to happen here, and I think it's because the groupthink always takes such a vigorous hold in a category with little precursor clues as to what the actual film industry thinks of the field.
This year, it's a foregone conclusion that the critically acclaimed "Man on Wire" will win the Oscar for Best Documentary Feature.  The film has nearly swept the circuit.  Only "Trouble the Water" (also nominated) and Guy Maddin's "My Winnipeg" have popped up with this critics organization or that.  But I submit that, not only is "Man on Wire" quite vulnerable, but it may be the least likely of the nominated docs to win the Oscar in a little less than two weeks' time.
Of course, that's quite the controversial statement.  And perhaps I'm dead wrong.  But I don't make it carelessly.  Having finally viewed all of the nominees, I can't deny how impactful each of the other contenders is.  Furthermore, James Marsh's film is largely composed of talking head interviews and pre-existing footage, not to mention dubious reenactments.  Each of the other contenders, meanwhile, are the result of original filmmaking.
Werner Herzog's "Encounters at the End of the World," for instance, is a gorgeous film, the exceptional effort apparent on every frame.  It is also the legendary helmer's first ever Oscar nomination, if you can believe it.  It's a brilliant view of Antarctica that we've most certainly never seen, both because of Herzog's trademark narrative witticisms and his great respect for those who choose to work in that environment.
Ellen Kuras's "The Betrayal," meanwhile, is arguably the closest thing to a piece of visual art of all the nominees.  A measured, decades-in-the-making study of a Laotian immigrant and his family, the film's impressionistic approach blurs the line between past and present despite its subjects' aging before our eyes through consistent accounts of the illegal U.S. invasion of Laos during the Veitnam conflict.  It is a visual essay of a sort, one that in any other year might be a prime candidate for the win.
Even the simplicity of Scott Hamilton Kennedy's "The Garden" has more immediacy than Marsh's film, and its local flavor might have more appeal than we expect.  Activist appearances by Martin Sheen, Daryl Hannah and Danny Glover hardly push it to the periphery of fringe, independent filmmaking.
Speaking of Glover, his name pops up as an executive producer on "Trouble the Water," far and away (for my money) the best film of the lot and one I'm ashamed I never got around to last year.  Here is a film that combines harrowing first-person coverage of a national disaster with properly accusatory looks at the federal process that followed, all the while feeling fresh and insightful despite the fact that we've quite frankly heard it all before.  In Kim and Scott Roberts, filmmakers Carl Deal and Tia Lessin found a goldmine of perspective that maintains an authenticity despite, perhaps, an expectation of hyperbole.  Check out Kim Voynar's recent interview with the directors for an example of how resonant the film remains, over a year after its Sundance debut.
I have a lot of respect for "Man on Wire."  I think it's blend of energetic interviews with Philippe Petit and stock footage of his daring high-wire act is at times quite beautiful.  The score is magistrial, a lullaby throughout.  Yet overall, I can't imagine the film would have the same emotional resonance if it weren't a sort of ghost story, given the fate of the twin towers.  And I can't help but marvel at the innovation of the other contenders more so than the piecing together of older material and manifestation of scenes to push "Wire"'s story forward.
And I doubt I'm the only one.  I don't have any insight into the voting committee of this year's documentary contenders.  I haven't made any calls to find out who's voting for what.  So this is purely a speculative piece.  But we must keep in mind that, while most of the other categories can allow for a voter to choose without having seen this or that contender (thereby allowing the groupthink to sway opinion in some instances), members of the Academy who wish to vote in the documentary field must watch each of the nominees in order to have a say.  And when you stack up the competition, "Man on Wire" seems a bit flat.