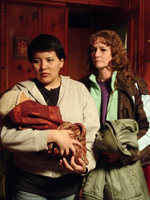 On Monday's edition of NPR's "All Things Considered," reporter Nate DiMeo spotlights the "Cinderella story" of Courtney Hunt's "Frozen River," which turned up a rather surprising original screenplay nomination two-and-a-half weeks ago.
Originating out of Sundance in early 2008, the film is one of a handful that can be "very high quality, but not very obvious to sell or to market," says Sony Pictures Classics honcho Michael Barker in the piece.  But, as DiMeo points out, "Frozen River" is "the type of film that Barker and his team have honed awards season after awards season."
Interestingly enough, I've begun to hear a lot of chatter in favor of Hunt's film turning up one more surprise: on Oscar night.  While most of us are debating whether Best Picture nominee "Milk" or animated critics favorite "WALL-E" will win in the original screenplay category, there are those who think Hunt could eek out a victory, a show of support for independent filmmaking to be sure.  There is also talk of Kate Winslet's "assured" victory in the lead actress category not being all that assured at all, and that Melissa Leo has become a difficult choice to argue against.
Barker "had a plan and an instinct on this," Hunt says in the DiMeo piece.  "I thought once I got into Sundance and sold the movie, I was a big shot.  Well, it turns out I wasn't as much of a big shot as I thought I was."
Barker notes that "for the longest time, we were the only film that the Academy members had in their hands to watch."  Screeners of the film went out at the beginning of September, DiMeo reminds, "before it could be buried under a pile of 'Benjamin Button' and 'Dark Knight' screeners.  Sony Pictures Classics had scheduled the DVD release for right around now to take advantage of a potential nomination.  And now orders are up."
The studio's goal is "for the film to have the longest life possible," Barker says, "and 'Frozen River' is probably a textbook example."
Might it also be a textbook example of catching the Oscar frontrunners off guard?  It's quite possible.
Also check out Sasha Stone's interview with Hunt from earlier in the week if you missed it, as well as Liane Hansen's chat with Leo from November, right around the time of the film's release.