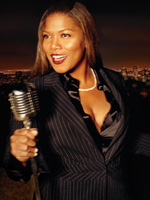 This, I can't go along with.  I've been one of the biggest supporters of whatever Bill Condon and Laurence Mark can cook up, but crooning during a segment like this?  And Queen Latifah of all people (who I love, mind you)?  I don't like it.  Maybe it'll work but I'm skeptical.
From E!:
I can exclusively reveal that Queen has signed on to sing during the awards show's annual "In Memoriam" montage, paying tribute to Industry leaders who passed away in the last year.

But what will she be singing?

Easy: "I'll Be Seeing You," a song with a long run in Hollywood. Originally from the 1938 Broadway musical Right This Way, it became popular as the theme to Liberace's 1950s TV show, and was used in Crimes and Misdemeanors, Misery and The Notebook and during the closing credits for the last episode of Beavis and Butt-head.