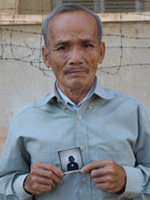 Last week I pored through the animated and live action short films that find themselves in Oscar contention this year in order to help give a leg up in your Oscar pools.  Over the weekend, I decided to take a good, long look at the nominated documentary shorts, which rarely find any coverage this time of year.  I can't be the only that gets tired of taking blind stabs at who'll win in this category, so here's what I turned up…
There are four nominees in the category, as usual.  And two of the films are strikingly similar in tone and subject matter, doubly so in the face of the year's likely Oscar sweeper, "Slumdog Millionaire."
Megan Mylan's "Smile Pinki" covers pro bono palate lip surgery in rural India, but it isn't that dissimilar from any number of 60-minute infomercials you've come across on television.  Also, Oscar.com's brief synopsis of the film suggests more drama than actually exists.  It could win for being a heart-warming affair because it really is the story of newfound hope in the social lives of young children, but I found it a bit derivative.
Irene Taylor Brodskey's "The Final Inch," however, is a much more intriguing look at the country, following the work of volunteers mobilizing efforts (the largest non-military army in history) to eradicate polio in the slums of India.  From a cultural standpoint, it is at times quite fascinating.  Some families refuse the "medical wisdom" of the West in favor of faith in their God, leaving a very simple vaccination process ignored and many young children crippled at an early age for no good reason.
A detour to North Carolina and a 70-year-old woman suffering from the disease since she was a little girl (and living in an iron lung for the rest of her days) really drives the point home: if you are given the opportunity to save your child from a vicious disease, shouldn't you take it?  I could see this one putting up a fight for the Oscar quite easily.
Bringing up the rear will probably be Adam Pertofsky's "The Witness from the Balcony of Room 306," which, as I noted last week, is titled "The Witness: The Last Days of Dr. Martin Luther King, Jr." on the actual film.  The doc follows Reverend Samuel "Billy" Kyles, the last remaining witness of King's assassination in Memphis in 1968.
The doc is more or less a reflective piece, Kyles remembering King's life and times, and more specifically, the days leading up to the assassination.  Kyles's description of the event is quite detailed and at times harrowing, explaining how King crushed his cigarette at the moment he was shot because he didn't want children to see him smoking, the description of the exit wound in such a matter-of-fact way, etc.  But the film is a bit pedestrian overall, lacking any sense of freshness despite the zeitgeist into which it has been released.
That leaves one more contender, and if I were to place a bet, Steven Okazaki's "The Conscience of Nhem En" might be it.  Okazaki received his fourth Oscar nomination for the film, and going back to 1986, he has received three nods for short subjects and one for features.  He won in the short subject category for 1990's "Days of Waiting."
"Conscience" details survivor accounts of the Khmer Rouge regime in Cambodia, but where it could have settled for talking head interviews and a simplistic visual approach, the film instead takes on a certain life.  Subjects act out descriptions of former conditions at the Tuol Seng prison, for instance (bringing one elderly gentleman to tears in an emotional sequence), while the film makes clever, haunting editorial use of the photography of Nhem En (who at 16-years-old was charged with photographing prisoners on their way to certain death).
If only because it's the most cinematic of the lot, I would take Okazaki's film for the win.  Despite its subject matter, it's a relatively easy watch, but some might find it a bit slow-moving.  "Smile Pinki" (if tears of joy count for a lot) or "The Final Inch" (if social importance sparks with committee voters) could just as easily walk away with it, so eeny, meeny, miny, moe might be more scientific.