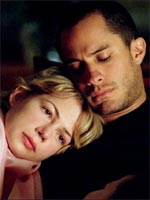 Several days into the Berlin Festival, it remains a rather quiet affair from the outside. A couple of starry titles have been thrown to the wolves, while we're still awaiting news of a breakout film or performance along the lines of "Happy-Go-Lucky" last year.
However, tonight's screening will bring the first word on Stephen Frears' eagerly anticipated "Chéri," which has been prompting awards talk since mid-2008. (Nat Rogers, for one, idly muses on the Oscar chances of the film's stars, Michelle Pfeiffer and Kathy Bates, here.)
As for two of the films that have already been rather harshly received across the board, I was interested to hear a voice of positive dissent from one of my favourite critics, as Salon's Stephanie Zacharek finds much to like in both Tom Tykwer's "The International" and Lukas Moodysson's "Mammoth." In particular, she argues that the former, a "strange and beautifully made thriller," may be a victim of an overt anti-Hollywood sentiment among festival critics:
The movie I saw and loved felt "Hollywood" to me only in the best sense: Tykwer obviously had some money to work with here, and he spent some of it on the kind of elaborate, elegantly constructed set pieces that few mainstream directors know how to do anymore. (Wait until you see what he does with the Guggenheim Museum.) What's more, "The International" is a leisurely thriller, which means it's automatically a contradiction in terms: It can be called too slick, too boring, too "unlike anything else out there" and too "just like everything else out there" all at once. Those very conflicts are exactly what make it interesting.
Meanwhile, she also thinks that Moodysson's much-maligned new effort has received an overly rough ride from critics, even if, as she admits, it's an imperfect work:
"Mammoth" is a movie with some problems: Moodysson breaks faith with the audience, perhaps unnecessarily … And sometimes he's too obvious in making his points, particularly in the way he draws parallels (and contrasts) between the ways the rich and the not-so-rich care for their children.

But "Mammoth" is the most affecting picture I've seen at the festival so far, one that at least tries to grapple with some very delicate ideas: among them, the reality that no matter how much we may feel we've succeeded in shrinking the world with technology, it's still an impossibly large place — especially when the people you love are on the other side of it.
As a fan of both Tykwer and Moodysson who is thoroughly looking forward to both films, whatever their possible flaws, this is heartening to hear. For all I know, they may be as disappointing as the critical consensus would have you believe, but it's nice to see an intelligent writer standing up to the somewhat bullying mass critical mentality that often emerges in a festival environment. Let's see for ourselves.
(Thanks to commenter GordonsGirl for the tip.)