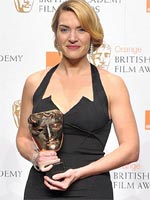 Good. After weeks of mean-spirited mockery for her admittedly messy Golden Globe acceptance speeches, it appears that Winslet-baiting has finally gone out of style in the British press. UK media can demonstrate a weird tall-poppy syndrome when it comes to homegrown successes, but judging by this Independent article, they obviously approved of her restrained, clipped acceptance speech at last night's BAFTAs:
Rushing to the stage with a whoop, she started her speech with businesslike briskness, thanking her family and friends with just the faintest of quivers to her voice, adding that if she looked in the direction of her parents "I really will burst into tears". "To be given this award at home really means a great deal to me. Thank you, Bafta," Winslet added. She paid tribute to the producers of The Reader, Anthony Minghella and Sydney Pollack, who both died last year, saying: "I can't believe they are no longer with us. You are much missed today and you will be much missed for many years to come."
The Guardian, meanwhile, deemed her "a model of composure," while the Telegraph adds that "it was a relief Kate Winslet has finally put her acceptance speeches behind her." As I said last night, though, I couldn't help feeling that Winslet appeared a little too browbeaten on stage; I wouldn't mind a little more sponteneity from her when she (almost) inevitably wins on Oscar night.
It seems the Telegraph's David Gritten was particularly pleased with the BAFTAs overall, calling them "by far more interesting" than the Oscars — a curious and somewhat premature conclusion, given that the Oscars look likely to unfold very similarly in a fortnight's time.
Gritten bases this supposed superiority on the fact that "Man on Wire" and "Hunger" both took away some hardware — though personally, I think the fact that both films were relegated to specialist ghetto categories, while they can't even be bothered with a Best Documentary award, is more dispiriting than heartening.
If the BAFTAs really were, as Gritten says, such "a display of good taste and independent judgement," mightn't they have nominated Steve McQueen's masterpiece for Best Film, rather than matching the Oscars five-for-five? Strange logic. And this paragraph really made me chuckle:
And you have to love the fact that the British public voted Noel Clarke as this year's Orange rising star. He may be best known as Doctor Who's Mickey Smith, but he is also an accomplished screenwriter and director (Adulthood, Kidulthood) who deserves this public boost.
Uh, why do I "have to love" that? I don't see much to love about the fact that British kids texted in their thousands for the star of "Doctor Who" and two (dismal) urban youth dramas rather than an actor as astonishing as Michael Fassbender or an international star-in-the-making like Rebecca Hall. (To irritate me further, incidentally, Gritten goes on to demean Mickey Rourke's win as "baffling.")
I'm not really complaining about the BAFTAs here — I think they generally made strong picks, given what they had to work with. But I'm infuriated by the smugness of such journalists in presuming that a couple of invented categories, designed specifically (and let's face it, condescendingly) to spotlight British cinema, immediately lends the BAFTAs more credibility.