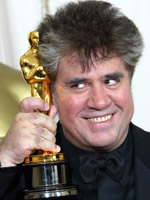 Writing in the weekend's New York Times Magazine, filmmaker Pedro Almodóvar becomes one of the first to begin spitballing the efforts of an actress we're likely to be talking about this time next year:
Last year she finally came into her own in America, as she had already done in the rest of the world. Penélope is one of the most versatile actresses with whom I've worked. And this season she has proved it, with two performances in very different keys: the hysterical, very funny painter in "Vicky Cristina Barcelona" and the young, neatly coiffed student in "Elegy."

What will 2009 bring? For starters, "Broken Embraces," a hard-nosed drama with the feel of a thriller, and Rob Marshall's "Nine," a remake of Fellini's "8½." My film is finished, and I've seen images from "Nine," and I can tell you that this year Penélope Cruz will continue to plumb depths we haven't seen before.
Check out the rest here.