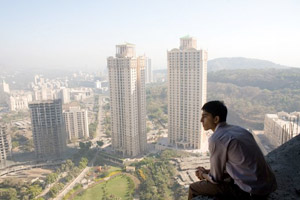 Anyone ready for it to all be over?
For me, it hasn't been a painful Oscar season, despite what I may have let on throughout the last five months. After all, my favorite film is and has been primed for the big win since November (well, since we said it was in November…everyone soon followed suit). And for that, I can't be agitated, can I?
Obviously I can't speak for the troops over on Melrose. "Slumdog Millionaire" has to be the worst thing to happen to a lot of those hard-working folks. Blood must be boiling.
And who can blame them?  It really just sucks when the perfect storm conspires against you. Old timey Hollywood mixed with state of the art digital artistry just hasn't been enough for industry filmgoers this season. The economy, the new president, the zeitgeist, it was all too much. Fox Searchlight finally moved out of its perennial role as underdog and became the schoolyard bully.
Of course, it would be nothing more than an upset if "Slumdog" failed to take the prize at this point. And really, besides a scattered few, who's predicting that with any confidence?
The last question marks in my head may have been cleared up by yesterday's BAFTA Awards ceremony (the winners of which are bizarrely passed around via embargoed release before the show even airs). "Slumdog," of course, swept the field. But now more than ever I feel like Anthony Dod Mantle might be in line for that cinematography victory, for instance, winning the BAFTA in a field that matches Oscar's 100% this year.
Ditto the sound mixing category, which could see "Slumdog" trump both "The Dark Knight" and "WALL-E," a famed mixer (and past nominee) tells me. It happened at BAFTA. And hey, he told me "Wanted" was going to be nominated and I didn't listen, so maybe I should learn my lesson.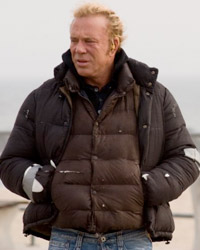 "Milk" apparently doesn't exist to the Brits, so maybe there isn't much to glean from Mickey Rourke's victory. But I don't know. Something tells me that race is very, very close and I can't be the only one aching to see Rourke holding an Oscar, just as many were aching for Penn to do the same in 2003. And if Rourke is victorious on the 22nd, we'd see the acting categories go four-for-four with the BAFTA winners. Not common, but the year has strangely gelled into a hardened thing of surety this year.
I hinted at it two weeks ago, but I'm seriously over 2008. I've been knee deep in my usual year-in-advance research and finally polished it off over the weekend. I'm even ready to unleash my first set of charts. I'm that eager to move on. And there are some exciting projects waiting in the wings.
Rob Marshall's "Nine" and Peter Jackson's "The Lovely Bones' have a lot of fans chomping at the bit, but I'm more attuned to Michael Mann's "Public Enemies." My favorite working director collaborating with a few of my favorite working actors? I'm there.
Clint Eastwood has a new film, of course, though it won't be called "The Human Factor." According to the director, who spoke briefly on it at the Santa Barbara Film Festival, it's just "Mandela" at the moment. And all eyes are on new efforts from Terrence Malick, Steven Soderbergh, Paul Greengrass, Martin Scorsese, James Cameron, etc., etc.
But those are the obvious players. What about the smaller films that always come along and fill in the cracks? Those are the ones I look forward to stumbling across. Richard Curtis's "The Boat That Rocked," for instance, or Scott Cooper's "Crazy Heart."
Look at me. I can't shut up about it, and this column is still two weeks away by my clock. So I'll bottle it up for now. Check back Monday, Feb. 23 for the annual year-in-advance column and predictions and we'll really dive in at that time.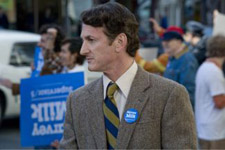 For now, it's a big waiting game, no? That's kind of what it's been all year long.  Films like "Milk," "The Reader" (in a different, more focused form), "Frost/Nixon" at certainly "The Curious Case of Benjamin Button" would have made for handsome Best Picture choices in any given season.  And everyone has renewed life in the second phase of an Oscar season.  (It's no coincidence aim was taken at the frontrunner during this important stretch of time.)
But while others in the industry would like you to believe there are surprises left in store, there's only room for one fantasy this year: the rags to riches story, on screen and off, of "Slumdog Millionaire." I look forward to congratulating all involved in 13 days.
Hopefully I haven't jinxed it!

Main Category Charts
Technical Category Charts
The Contenders
Oscar Prediction Archives