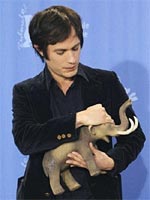 Oh dear. Colour me very disappointed indeed. "Mammoth," Lukas Moodysson's would-be entry into the mainstream, had me so hopeful — not least because it features Gael Garcia Barnal and Michelle Williams, arguably the two most exciting actors of their generation. But judging from a hostile crowd reception and cool-to-icy reviews, it appears the film isn't likely to join Moodysson's "Fucking Amal" or "Together" in the pantheon of greatness.
IndieWire's Eugene Hernandez reports that the film actually elicited boos at its screening — something that should always be taken with a pinch of salt, given the weird, unnecessarily cruel crowd mentality that often reigns at European festivals. (Just ask Sofia Coppola.) But Screen International's trustworthy Jonathan Romney's review isn't much more merciful:
Mammoth is an elephantine dud from a director who has plenty to say about the state of the world – and not a whit of new insight to offer nor artistic invention to express it … Moodysson's humourless, finger-wagging script ticks every expected box, and he's not averse to heavy visual underlining … The film's title (alludes) – geddit? – to the capitalist global system, a wasteful titan doomed to extinction, though it applies equally well to the lumbering shaggy monster that Moodysson has created here.
Variety is moderately more forgiving, describing the film as "a mixed bag" but citing "too much repetitive exposition and (no) emotional payoff." The Variety team clearly saved their sharper claws for Sally Potter's "Rage," a(nother) fashion industry satire with a knockout cast but, it seems, little else. Potter has always been hit-and-miss, and this regrettably appears to be a resounding miss:
Rage, or at least indignant annoyance, may also be what some auds will feel after having paid to see this lame black comedy-cum-indictment of the fashion industry. Although name cast almost makes pic bearable, "Rage's" absurd story about murder on the catwalk, told entirely through straight-to-camera monologs, reps a tiresome 94 minutes … If you're going to skewer something, at least do enough research to make your parody world look semi-plausible. Admittedly, realism doesn't appear to rate high on Potter's agenda, given that the pic already feels hopelessly stagey, like an off-off-Broadway piece of marginal theater.
There's some praise at least for the cast, with supermodel Lily Cole surprisingly singled out as "a revelation," an opinion seconded in Screen International's otherwise equally damning review.
Sigh. Next!