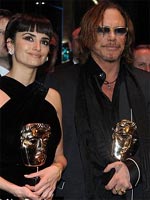 For an awards body renowned for its frequently contrarian bent, the most surprising thing about this year's BAFTA awards was, well, just how unsurprising they were.
As the evening unfolded, not a single result emerged that could be classified as a major upset, even if the winners ("Man on Wire" helmer James Marsh in particular) occasionally looked more astonished than anyone else. Yours truly got 16 out of 21 predictions correct (a personal BAFTA record, I think) and even then, most of those errors came from trying to second-guess their usually far less predictable tech categories, and slightly underestimating the across-the-board love for "Slumdog Millionaire."
For love it they did, awarding it 7 trophies in the biggest BAFTA sweep since "Schindler's List" matched that tally fifteen years ago. There really is very little to say about the "Slumdog" phenomenon at this stage, other than to admire the grace, modesty and genuinely endearing excitement that Danny Boyle, et al, still manage to convey at these ceremonies, all the while concealing the fact that they can no longer be surprised when their names are called.
The other major story of the ceremony, however, was Mickey Rourke, whose outrageous but nonetheless slyly self-deprecating speech was the evening's clear highlight. (His hilarious shout-out to his agent for "telling me who to fuck" is surely a soundbite for the ages.) I think it was clear to anyone in the UK that Rourke would win this – "The Wrestler" appears to be attaining cult status here, while the buzz around "Milk" has been eerily quiet – but it does nevertheless prove that he's still very much in the Oscar race. Taking his wonderful performance aside for a moment, Rourke has now twice proved that he makes for great TV – and assuming they can handle some salty language, his knockout speech tonight may well win over some undecided AMPAS voters.
(More thoughts, and a full list of winners, after the cut.)
Beyond that, there was very little to upset the status quo. Kate Winslet solidified her position as frontrunner in the Best Actress race, while Heath Ledger remains unbeatable. Penelope Cruz won, as expected, but given that she didn't have Viola Davis (or, indeed, Kate Winslet) to contend with this time, there's still life in that race yet.
Some may be surprised that "Milk" lost its bid for Original Screenplay here after winning the WGA yesterday, but as I've said before, the film hasn't really caught on with the British, while "In Bruges" is just the kind of homegrown (and deserving) critics' pet that BAFTA often favours. In fact, the most interesting result of the night for me was the Foreign Film win for "I've Loved You So Long," not just because it's an overdue accolade for one of 2008's few true masterworks, but because it's the first indication we've had that not everyone thinks "Waltz With Bashir" is all but entitled to this award. However, given that Philippe Claudel's film isn't a factor in the Oscar race, it's difficult to determine what, if anything, this result means.
Overall, BAFTA acquitted themselves well tonight, maintaining their new-found status as relevant Oscar bellwethers while still showing the occasional streak of British individualism. (The less said, however, about the laughable Orange Rising Star Award, the better – though with some knowledge of the British voting public's parochial inclinations, Noel Clarke's win was easily seen coming.)
The only area in which they truly embarrassed themselves was, as always, the ceremony itself. While not as shambolic as last year's technical glitch-plagued effort, the Brits still proved themselves incapable of putting together a smoothly entertaining show. A muted Jonathan Ross (clearly on a leash following his recent suspension, though perhaps that was a mercy) lurched from one thuddingly received quip to the other, when he wasn't reading presenter intros that seemed to have been pilfered from Wikipedia entries. He remains an awkwardly TV-sized host for a ceremony celebrating the larger-screened medium.
Meanwhile, while the lack of commercial breaks is welcome, the efficient parade of awards proved alarmingly monotonous with so little alternative content to mix things up –- and their failure to televise the Animated Feature, Editing or Short Film awards was inexcusable.
Finally, BAFTA has to take a leaf from the Oscars and simply deliver an untinkered live telecast from start to finish. This year's system of broadcasting an apparently tape-delayed ceremony, necessitating a channel change halfway through while news of early awards leaked before reaching our screens, was needlessly fussy and buzz-killing. Is it really necessary to send out a press release revealing all the winners before the ceremony even begins? Where's the suspense – nay, the romance even – in that?
The good news is that, in Covent Garden's exquisite Royal Opera House, BAFTA has found a suitably imposing home for their annual awards. The next step is to figure out a way to live up to its grandeur.
Best Film: "Slumdog Millionaire"
Best British Film: "Man on Wire"
Best Director: Danny Boyle, "Slumdog Millionaire"
Best Actor: Mickey Rourke, "The Wrestler"
Best Actress: Kate Winslet, "The Reader"
Best Supporting Actor: Heath Ledger, "The Dark Knight"
Best Supporting Actress: Penelope Cruz, "Vicky Cristina Barcelona"
Best Original Screenplay: Martin McDonagh, "In Bruges"
Best Adapted Screenplay: Simon Beaufoy, "Slumdog Millionaire"
Best Foreign Language Film: "I've Loved You So Long"
Best Animated Film: "WALL-E"
Best Cinematography: Anthony Dod Mantle, "Slumdog Millionaire"
Best Art Direction: Donald Graham Burt and Victor Zolfo, "The Curious Case of Benjamin Button"
Best Costume Design: Michael O'Connor, "The Duchess"
Best Makeup & Hair: "The Curious Case of Benjamin Button"
Best Film Editing: Chris Dickens, "Slumdog Millionaire"
Best Music: A.R. Rahman, "Slumdog Millionaire"
Best Sound: "Slumdog Millionaire"
Best Visual Effects: "The Curious Case of Benjamin Button"
Carl Foreman Award: Steve McQueen, "Hunger"
Orange Rising Star Award: Noel Clarke
Best Short Film: "September"
Best Animated Short: "Wallace and Gromit: A Matter of Loaf and Death"