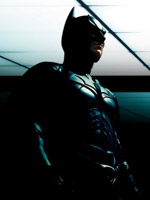 While I, too, am tired of the carping and griping about this years Academy Award nominations, I still have not been able to wrap my head around how this group could have snubbed "The Dark Knight" and Christopher Nolan. They obviously liked the film, something akin to "Dreamgirls" two years ago, landing many nominations but lacking best film and director.
But "The Dark Knight" is in pretty fine company in terms of great films not nominated for the big prize. I have always found it incredible that a group of people so close to the industry (working within it, actually) could miss films that we as critics and audience members know to be great films.  How does that happen? Are the Academy Awards truly elitist? Are they wrong-headed? Or are they that political and so controlled by the studio campaigning system that they really can be swayed like the members of the Hollywood Foreign Press Association?
Yes I am still smarting about "The Reader," whether it really was #5 or not, because I share Kris's opinion of the film: sloppy, not very well put together, not particularly moving, and aside from Kate Winslet, in a SUPPORTING role, the film did not not seem to have very much going for it. Yes I have heard all those nasty rumors and theories about Holocaust films getting nominated, and until now, I have never put much stock in them, but I have to tell you, this one stunned me.
Would I be so miffed if it was "Gran Torino" or "Revolutionary Road?" No, because with the former I would understand the Eastwood love, and with the latter I believe it should have been nominated, but "The Reader" has left me in a spin.
Mr. Nolan, you made a great film, something the Directors Guild of America (God bless them) recognized, and legions of admirers anxiously await your next work, Batman or not. And rest assured you are in good company, here are some of the great films that the Academy chose not to nominate for Best Picture:
"City Lights"
"The Bride of Frankenstein"
"Red River"
"The Bicycle Thief"
"Seven Samurai"
"Rashomon"
"Night of the Hunter"
"Some Like It Hot"
"Cool Hand Luke"
"In Cold Blood"
"Planet of the Apes" (1968)
"They Shoot Horses Don't They?"
"The Last Detail"
"Last Tango in Paris"
"Seven Beauties"
"Superman"
"The Tin Drum"
"Nosferatu" (1979)
"Fitzcaraldo"
"Blow Out"
"Ragtime"
"Prince of the City"
"Das Boot"
"Under Fire"
"Once Upon a Time in America"
"Fanny and Alexander"
"Stand By Me"
"Au Revoir Les Enfants"
"Empire of the Sun"
"Bird"
"Ran"
"Cinema Paradisio"
"The Last Temptation of Christ"
"Casualties of War"
"Do the Right Thing"
"Glory"
"Miller's Crossing"
"Thelma and Louise"
"Ju Dou"
"Malcolm X"
"The Age of Innocence"
"Ed Wood"
"Natural Born Killers"
"Bullets Over Broadway"
"Seven"
"Dead Man Walking"
"The Bridges of Madison County"
"Toy Story"
"Leaving Las Vegas"
"The Crucible"
"Boogie Nights"
"The Sweet Hereafter"
"The Apostle"
"The Truman Show"
"Fight Club"
"Almost Famous"
"Requiem for a Dream"
"A.I.: Artificial Intelligence"
"Far from Heaven"
"Catch Me If You Can"
"Minority Report"
"Atanajurat: The Fast Runner"
"Amelie"
"A Very Long Engagment"
"The Passion of the Christ"
"Eternal Sunshine of the Spotless Mind"
"Downfall"
"Pan's Labyrinth"
"Zodiac"
All great films, some of them among the finest EVER made, all snubbed for Best Picture.  But what about the 10 GREATEST films never to be nominated for the big award?  Easy.  In no order:
"King Kong" (Merian C. Cooper, 1933)
It was a marvel of special effects and just simply a grand adventure. The Academy snubbed it in every category, not even nominating the special effects or giving it some sort of special award for its achievement. Shameful, because this was by the far the best film of its year.
"Singin' in the Rain" (Stanley Donen, Gene Kelly, 1953)
It's often regarded as the greatest Hollywood musical ever made, and though I prefer my musicals darker, the sheer joy is infectious throughout. Gene Kelly never made a better film, and the infamous sequence of the film's title is a classic movie moment. Oscar? What happened?
"The Searchers" (John Ford, 1956)
Ford brought a poetry to Westerns in the visual language that few directors have been able to touch since.  He also had a knack of bringing brilliant work out of John Wayne, who was superb as Ethan Edwards, the seething rage all but burning a hole in the screen.
"Some Like It Hot" (Billy Wilder, 1959)
This comedy, voted the greatest of all time by the American Film Institute, was snubbed for Best Picture in a year that saw William Wyler's epic "Ben-Hur" win a record 11 Oscars.  Billy Wilder's wonderful farce showcased career-best work from Jack Lemmon, Tony Curtis and Marilyn Monroe.  AMPAS blew it.
"2001: A Space Odyssey" (Stanley Kubrick, 1969)
It seems a likely case of the Academy admiring the film but not being able to make heads nor tails of it. Ironically, they nominated Kubrick for his direction but could not see fit to nominate the film, which was groundbreaking and a major step in the New American Cinema movement.
"Close Encounters of the Third Kind" (Steven Spielberg, 1977)
This was Spielberg's first film after "Jaws," which made him a household name. A beautiful tale of aliens contacting earth is filled with images that leave us in awe. When my brother and I stumbled out of the theater we overheard a woman mutter, 'My goodness…that was like seeing God for the first time."
"Manhattan" (Woody Allen, 1979)
This film landed Woody Allen on the cover of Time Magazine and was hailed as the decade's best. The beautiful black and white dramedy was Allen at the height of his considerable talents. Mariel Hemingway was heartbreaking as Tracey, while, as always, Diane Keaton and Woody were perfect together
"The Empire Strikes Back" (Irvin Kirshner, 1980)
The sequel to George Lucas's groundbreaking "Star Wars" was a better film, but only managed a few technical notices.  Deeper and darker, with a strong epic sweep, this was easily one of the five best films of 1980. I remember clearly the audience's sharp intake of breath when Darth Vader reveals his secret.
"Blue Velvet" (David Lynch, 1986)
This film was actually attacked mercilessly by Roger Ebert and Gene Siskel who went from talk show to talk show running it into the ground, no doubt causing it some votes. The National Society of Film Critics named it bthe est of the year, and it just have might have been.
"Magnolia" (Paul Thomas Anderson, 1999)
This was simply the most daring film I had seen in years with a director in absolute control of what was happening on screen.  He merged his style with that of Robert Altman and Martin Scorsese, yet never imitated, because he is simply too fine a director to need to do so.
Okay, make it top 11 — I'm cheating:
"The Assassination of Jesse James by the Coward Robert Ford" (Andrew Dominik, 2007)
Simply because it so moved me and was so beautifully made on every level. I recently saw the film again abnd I marveled at Roger Deakins's haunting cinematography, the sublime work of Casey Affleck and the tragically brilliant Brad Pitt as Jesse James, who seems locked in step with Ford in a curious dance of death.
There's mine…yours?