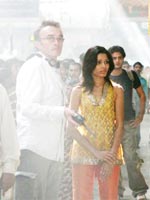 Continuing yesterday's not-so-educated guesses at tomorrow's BAFTA Awards, we move on the main categories. In many ways, they're easier to predict than the frequently confounding technical categories, but that's no reason to get complacent – as we saw last year with then-unexpected wins for Tilda Swinton and Marion Cotillard, BAFTA is more than capable of throwing a significant spanner in the works in the top races.
By the way, be sure to tune in tomorrow, when I'll be liveblogging the ceremony, beginning with the red carpet coverage at 11 a.m. PST (that's 7 p.m. London time).
BAFTA bizarrely issues a press release revealing the winners before the ceremony begins. (I told you they haven't a clue how to organise the event.) I'll be ignoring that, for my part – the ceremony can be dull enough without having every last drop of suspense extricated from the proceedings. But the info will be available. I leave the choice up to you.
Moving on to the predictions…
Best Film
"The Curious Case of Benjamin Button"
"Frost/Nixon"
"Milk"
"The Reader"
"Slumdog Millionaire"
There really is terribly little to discuss here. The truth is that "Slumdog" would likely be a BAFTA favourite even if it weren't primed for Oscar glory – a true British success story, from a popular but largely unsung hometown filmmaker, featuring a British lead actor from a high-profile Channel 4 TV drama, it's been a massive local box-office success, and has enjoyed nearly the same level of critical adulation here as in the States. BAFTA has celebrated homegrown product in this category for the last two years, and will do so for a third time running. If anything were to derail the Mumbai express, it would be the very British-flavoured "The Reader" … but it won't.
Will win: "Slumdog Millionaire"
Should win: "Slumdog Millionaire"
Best British Film
"Hunger"
"In Bruges"
"Mamma Mia!"
"Man on Wire"
"Slumdog Millionaire"
Strange as it may seem, the first title to discount here is "Slumdog." No film has ever won both the Best Film and Best British Film awards at BAFTA, largely because the latter is voted on by a special committee, often with the apparent intention of spotlighting lower-profile British filmmakers. Their picks are usually fairly discerning (though "Wallace and Gromit" was an unusually populist pick in 2005), so I think it's safe to say that "Mamma Mia"'s undeserved nomination will be its reward.
Between the other three, it's very hard to call. "In Bruges" has a strong showing elsewhere in the nominations, while critical favourite "Hunger" very much fits the profile – edgy, defiantly arthouse, brilliant — of recent winners like "This is England" and "My Summer of Love." However, "Man on Wire" was also critically adored, as well as an unexpected specialty hit – given that BAFTA (inexplicably) doesn't have a Best Documentary category, I think they may choose to recognise James Marsh's film here.
Will win: "Man on Wire"
Should win: "Hunger"
Best Director
Clint Eastwood, "Changeling"
David Fincher, "The Curious Case of Benjamin Button"
Ron Howard, "Frost/Nixon"
Stephen Daldry, "The Reader"
Danny Boyle, "Slumdog Millionaire"
Unlike the American Academy, BAFTA likes to split their Best Film and Director awards more often than not – in the past decade, only three films (most recently "Brokeback Mountain") have taken both awards. Even with that in mind, however, it's difficult to see who could upset Danny Boyle here. Eastwood is obviously a non-starter, while neither "Frost/Nixon" nor "The Reader" are the kind of director's showcases that BAFTA sometimes likes to reward here (see "United 93," "Master and Commander" or "Romeo + Juliet"). "Benjamin Button" certainly fits that description, but I don't sense a great deal of enthusiasm for Fincher's very American-flavoured film on these shores. Boyle it is, and rightly so.
Will win: Danny Boyle, "Slumdog Millionaire"
Should win: Danny Boyle, "Slumdog Millionaire"
Best Actor
Frank Langella, "Frost/Nixon"
Dev Patel, "Slumdog Millionaire"
Sean Penn, "Milk"
Brad Pitt, "The Curious Case of Benjamin Button"
Mickey Rourke, "The Wrestler"
I'm not discounting the possibility of local lad Patel scoring a spectacular upset in this category, just as Jamie Bell did in the 2000 race – but I think even the most sentimental of BAFTA voters must realize that Patel's amiable performance doesn't deserve to be mentioned in the same breath as that of Sean Penn or Mickey Rourke. Between those two titans, it's once more a very tough call. BAFTA members obviously respected "Milk" enough to place it on the Best Picture list, but its rather half-hearted showing (a scant 4 nods, none of them for Gus van Sant or Josh Brolin) suggests that the film doesn't have the same passionate following among BAFTA voters that it does on the other side of the Atlantic.
Of course, "The Wrestler" has an even less impressive nominations showing, but it's had a far higher media profile (and far bigger box-office) here than "Milk." The Brits' surprising affinity for "The Wrestler" manifested itself in last week's London Critics' Circle awards, and in a toss-up race, I think that may give Rourke the edge.
Will win: Mickey Rourke, "The Wrestler"
Should win: Mickey Rourke, "The Wrestler"
Best Actress
Angelina Jolie, "Changeling"
Kristin Scott Thomas, "I've Loved You So Long"
Meryl Streep, "Doubt"
Kate Winslet, "The Reader"
Kate Winslet, "Revolutionary Road"
As has been the case throughout the season, Jolie is obviously in the "it's an honour to be nominated" category, but there is a case to be made for any of the other four nominees. There is some talk of Kate Winslet potentially splitting her own vote in this category, but given the far higher profile that "The Reader" enjoys on this island, I sense that the actress's fans will converge on her nomination for that film. Winslet doesn't have the same "overdue" factor here that she does with AMPAS, but it's been 13 years since her first win and voters probably think she's ready for her second.
If not, BAFTA may feel that it's time to throw Meryl Streep another bone (she hasn't won here since "The French Lieutenant's Woman" in 1981), but "Doubt," which only opened here on Friday, hasn't built much traction, and the critical response to her performance has been mixed. Kristin Scott Thomas, on the other hand, is British acting royalty with sensational reviews on her side, and she might be the one to benefit if – and it's a big 'if' — the Winslet brigade can't make up their minds.
Will win: Kate Winslet, "The Reader"
Should win: Kristin Scott Thomas, "I've Loved You So Long"
Best Supporting Actor
Robert Downey Jr., "Tropic Thunder"
Brendan Gleeson, "In Bruges"
Philip Seymour Hoffman, "Doubt"
Heath Ledger, "The Dark Knight"
Brad Pitt, "Burn After Reading"
I may have spent a long time on the last category, but why linger here? Nobody's rocked the boat in this category all season, and even if "The Dark Knight" wasn't quite the same phenomenon here that it was Stateside, I don't expect BAFTA to start, especially against such largely resistible competition. If anyone were to pull off a jaw-dropper, I'd say Brendan Gleeson, but that ain't happening.
Will win: Heath Ledger, "The Dark Knight"
Should win: Heath Ledger, "The Dark Knight" (with a sympathetic shout-out to Brendan Gleeson)
Best Supporting Actress
Amy Adams, "Doubt"
Penelope Cruz, "Vicky Cristina Barcelona"
Freida Pinto, "Slumdog Millionaire"
Tilda Swinton, "Burn After Reading"
Marisa Tomei, "The Wrestler"
With major Oscar challenger Viola Davis out of the running, this becomes a rather odd race. Even taking into the account the Brit favouritism that got her here in the first place, I can't imagine Tilda Swinton's performance sparking enough enthusiasm to give her a second straight win here, while I suspect it was name recognition alone that got Adams here ahead of her more-admired co-star. Even with all the goodwill in the world towards "Slumdog," I doubt BAFTA voters will be sufficiently wowed by former model Pinto's acting chops to give her the win, which leaves us with the only two significantly impressive performances of the race. Tomei could benefit if voters opt for subtlety, but the UK press for "The Wrestler" has focused almost exclusively on her co-star, which leaves Cruz an apparently straightforward path for Penelope Cruz – despite British critics' general distaste for Woody Allen's work of late.
Will win: Penelope Cruz, "Vicky Cristina Barcelona"
Should win: Marisa Tomei, "The Wrestler"
Best Original Screenplay
Joel and Ethan Coen, "Burn After Reading"
J. Michael Straczynski, "Changeling"
Martin McDonagh, "In Bruges"
Philippe Claudel, "I've Loved You So Long"
Dustin Lance Black, "Milk"
Weird things can happen in this category at BAFTA – absolutely nobody saw "The Station Agent" coming in 2003 – but even so, it's safe to say surprise nominee Straczynski hasn't a prayer here, while Claudel is the longest of long shots. When in doubt, BAFTA can sometimes play it safe with old favourites here, so I wouldn't entirely discount "Burn After Reading" here, but it'd be a stretch for such a trifle of a screenplay. "Milk" may be the one Best Film nominee here, but BAFTA often opts for more distinct writerly voices than Black's. Meanwhile, writerly voices don't come any more distinct than esteemed British playwright Martin McDonagh's, and I think this is where the slow-burning cult appeal of "In Bruges" will reveal itself.
Will win: Martin McDonagh, "In Bruges"
Should win: Philippe Claudel, "I've Loved You So Long" (with McDonagh close behind)
Best Adapted Screenplay
Eric Roth, "The Curious Case of Benjamin Button"
Peter Morgan, "Frost/Nixon"
David Hare, "The Reader"
Justin Haythe, "Revolutionary Road"
Simon Beaufoy, "Slumdog Millionaire"
Haythe is obviously just happy to be here, while I can't foresee any scenario in which Roth wins this. Between the three formidable Brit nominees, however, it strikes me as a fairly tight race. BAFTA likes to spread the wealth, and with the knowledge that "Slumdog" will almost certainly triumph elsewhere, it's possible that the writers' branch (remember these awards are peer-voted) may be tempted by the illustrious theatrical cache of either Sir David Hare or Peter Morgan – the latter of whom pulled off an upset here for "The Last King of Scotland" two years ago. However, with neither "The Reader" nor "Frost/Nixon" enjoying a particular advantage over the other, I'm guessing the luvvie votes split, and Beaufoy adds yet another trophy to his collection.
Will win: Simon Beaufoy, "Slumdog Millionaire"
Should win: Justin Haythe, "Revolutionary Road"
Best Film Not in the English Language
"The Baader Meinhof Complex"
"Gomorrah"
"I've Loved You So Long"
"Persepolis"
"Waltz With Bashir"
A mathematical approach dictates that "I've Loved You So Long" should win here, not only because it has acting and writing nods in its arsenal, but because it was the only foreign-language effort to make the Best Film longlist. However, BAFTA has been known to ignore the math here, picking "Amores Perros" over Best Film nominee "Amelie" in 2001, and I sense that will be the case this year. "Gomorrah" was a significant UK arthouse success and could easily emerge triumphant here. I'd favour "Persepolis" more if it was fresher in voters' memories, but I think precursor momentum and a general aura of "importance" will swing it the way of the other animated effort.
Will win: "Waltz With Bashir"
Should win: "I've Loved You So Long"
Best Animated Film
"Persepolis"
"WALL-E"
"Waltz With Bashir"
Speaking of "Bashir," given BAFTA's famously contrarian bent, I wouldn't be at all surprised to see Ari Folman's effort triumph here too, but I think "Persepolis" will likely pull away enough of the artsy vote to ensure another gong for the Pixar juggernaut.
Will win: "WALL-E"
Should win: "Persepolis"
Orange Rising Star Award
Michael Cera
Noel Clarke
Michael Fassbender
Rebecca Hall
Toby Kebbell
Those pundits presuming that industry princess Hall has this in the bag are forgetting that this award is decided by a public vote. Lovely as Hall is, the public has only had this weekend to discover her charms in "Vicky Cristina Barcelona," and they're hardly flocking to "Frost/Nixon." To an even greater extent, I think much head-scratching and mutterings of "Who?" has greeted the nominations of Kebbell and Fassbender, which leaves two actors to fight it out for the attention of manically texting kids. Many of you may not have heard of Clarke, but the kids certainly have – a long-running stint in UK TV favourite "Doctor Who" could give him the edge here. My head says the rather more famous Cera takes this – he's arguably too established to belong in this category – but I'm going out on a limb and saying the cellphone-brandishing masses keep it local.
Will win: Noel Clarke
Should win: Michael Fassbender
Carl Foreman Award (for debut British writers, directors and producers)
Simon Chinn (producer), "Man on Wire"
Judy Craymer (producer), "Mamma Mia!"
Garth Jennings (writer), "Son of Rambow"
Steve McQueen (writer/director), "Hunger"
Solon Papadopoulos and Roy Boulter (producers), "Of Time and the City"
Commendable as many of these achievements are ("Mamma Mia!" is a spectacularly successful feat of production, if nothing else), none of these nominees match McQueen for artistic vision, ambition and gumption. I'm guessing BAFTA voters use their heads here (always a risky assumption) and give McQueen and his neglected masterpiece their due. (Now watch it be Craymer.)
Will win: Steve McQueen
Should win: Steve McQueen
Finally, I haven't the energy to go through the short categories in detail, but let me say that I'll be stunned if Sam Taylor-Wood's exquisite, much-celebrated "Love You More" doesn't emerge victorious here. In the animated category, I'm pretty sure that longstanding affection for Wallace and Gromit will see "A Matter of Loaf and Death" through, even if it isn't one of Aardman's best efforts.
That's the lot, folks. For those who want the number, I'm predicting 5 awards for "Slumdog," 3 for "The Dark Knight" and a pair for "The Duchess." If you didn't get a chance yesterday, check out my technical category predix here, and join me tomorrow to ponder/gloat/commiserate over just how wrong I am.