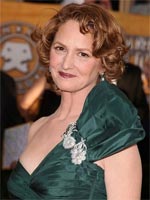 Yesterday, Kris pondered whether Kate Winslet's Best Actress Oscar is quite the sure thing it appears to be on paper, or whether Meryl Streep can surf in on a tide of veteran goodwill and spoil the Brit's party yet again.
I've been saying since nomination day that I can't imagine Winslet losing yet again, least of all for a performance in a Best Picture nominee (the first time she's had that luxury since her non-starter nomination for "Titanic" in 1997). If she wins the BAFTA on Sunday, as almost everyone suspects she will, her campaign stays comfortably on course; if, however, Streep manages to pull off an upset, I may well change my mind.
But allow me to play devil's advocate for a minute. Why has the competition been reduced to two performances that are by no means necessarily the strongest in the lineup? Let's perform a process of elimination. Streep's performance has been polarising from the get-go, with the reverberations of Variety's notably harsh review still being felt in the critical community. (As "Doubt" opens today in the UK, a number of critics find themselves bewildered, with the Guardian describing her work as "beyond absurdity.")
Of the competition, Angelina Jolie has drawn even less critical consensus than Streep, so it's safe to say she's out of the running. Anne Hathaway looked to be a frontrunner at one point, and barely anyone has a bad word to say about her performance, but judging from the tepid Academy reaction to her divisive film, I can't help feeling that her ship has sailed. Kate Winslet's performance has also been widely praised, and it's clear that a large faction of the Academy appreciates "The Reader" — but it's still a film with some notable detractors, and not everyone likes the way Harvey Weinstein muscled it into the race.
And so we arrive at Melissa Leo. In many ways the odd woman out in this year's star-heavy Best Actress race, she is arguably the one nominee whose performance — and film — have attracted the least criticism from any quarter. Critics have showered superlatives upon Leo's raw, career-defining performance, with the venerable Roger Ebert singling her out as his favourite of the nominees.
While Leo repeatedly played bridesmaid to the unnominated Sally Hawkins in the year-end critics' kudos, "Frozen River" emerged as a surprisingly strong awards-season presence, gathering broad support that culminated in a jaw-dropping Best Original Screenplay nod on nomination morning. Leo, a long-serving industry stalwart of film and TV, has been a visible, gracious presence on the circuit all along; much like Best Actor nominee Richard Jenkins, she's the quintessential "actor's actor" whom everyone is pleased to see doing so well.
So why can't she win? Well, there's the fact that "Frozen River" is a bleak, miniscule, little-seen indie that has received less publicity than any of the other nominees' vehicles, while Leo herself isn't exactly a fixture on glossy magazine covers. But what if voters do decide to pop their "Frozen River" screeners into their DVD players? What if they find themselves as knocked out by Leo's work as, say, Ebert was? What then?
Leo currently finds herself positioned as the contender about which many people are saying, "Oh, she should win, but she never will." And on most occasions, those people are proved right — no amount of grassroots gushing for Ellen Burstyn or Laura Linney could topple the Julia Roberts juggernaut in 2000, just as a tide of critical endorsements for Shohreh Aghdashloo in 2003 couldn't override the conventional wisdom that Renee Zellweger was unbeatable.
But once in a blue moon, conventional wisdom is proved wrong. Last year, when the nominations were announced, few pundits thought that Marion Cotillard had much chance of beating precursor queen Julie Christie for an admittedly spectacular turn in a grim, trickily structured French-language film that wasn't even a great critical success. But as word spread in the industry about the transformative nature of Cotillard's performance, the tide turned in Cotillard's favour in the last stages of voting.
To use an even more stunning example, in the 2000 Supporting Actress race, many bookies had Marcia Gay Harden in fifth place, as the Gotham critics' winner missed out on SAG, Globe and BFCA nods — while her fellow nominees divvied up the major precursors between them. The nomination, for her extraordinary turn as Lee Krasner in Ed Harris's sombre, barely-seen biopic "Pollock," was a surprise in itself; her win on Oscar night, however, was one of the biggest upsets of the decade thus far. How did she do it? It seems voters actually watched their "Pollock" screeners, and realized how lightweight her competition looked by comparison.
I'm not saying the same thing will happen for Melissa Leo on February 22. I'm just suggesting that the possibility shouldn't be entirely discounted. It's one hell of a performance — and even as I place my money on Ms. Winslet, I can't deny that amazing things happen when voters ignore the buzz, and watch the movies.