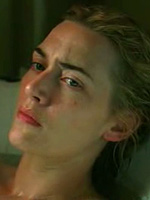 When Kate Winslet surprisingly popped up in the lead actress category for her performance in "The Reader," most of us immediately jumped to the conclusion that she'll win the Oscar walking away.  That is still probably the safest bet, but some folks are disturbing the waters, starting with Winslet herself in a recent AP story:
Kate Winslet says she is prepared to leave this year's Oscar ceremony as she has five times in the past — without a golden statue.

"I'm so used to it, having gone through it before and having lost so many times," Winslet says. "Being in that losing state is something I'm much more comfortable in, in a funny kind of a way."
David Carr, meanwhile, points out that Ray Richmond considers Winslet's category switcheroo to be a "snag":
Winslet's previous wins for "Reader" came in the supporting category. For reasons known only to its acting branch, the Academy decided to give her more votes in the lead category. Winslet is untested here. While the odds still favor her, don't rule out the chance of a loss.
What do you think?  Is the Oscar already in her hand or is Meryl Streep most likely to swoop in and grab statue #3?  (Personally I don't think Anne Hathaway is going to figure in here.)