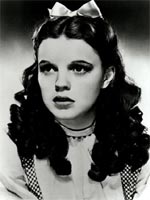 OK, so some actress just won an Oscar. We don't know who she is yet, or when exactly she'll receive it, but is there anyone willing to bet against the lucky thesp who winds up getting cast in the Harvey Weinstein-produced biopic of Judy Garland that has just been announced?
It seems the Brothers Weinstein have just optioned "Get Happy: The Life of Judy Garland," the bestselling, apparently definitive biography by Gerald Clarke (who, incidentally, also wrote the volume from which "Capote" was adapted). No director or cast are attached yet, but this is surely an awards-season gimme.
A grim childhood, drug and alcohol abuse, multiple unhappy marriages, singing, performing, drastic premature aging, mental instability … Garland's story is essentially "La Vie en Rose" minus the subtitles, plus the allure of Hollywood legend. It represents everything the Academy swoons over in a performance. If some actress knocks it out the park, backed by Weinstein's apparently renewed campaigning muscle, woe betide the other four ladies nominated alongside her.
Some of you may remember that Judy Davis nabbed every TV award going for playing Garland in miniseries form a few years back. It'll be interesting to see what age range Weinstein looks toward for the casting here. One actress or two? Anne Hathaway seems like a neat fit, but is she too young? Is Cate Blanchett too old? If Kate Winslet loses again this year, I suggest she gets on the phone with Weinstein immediately.