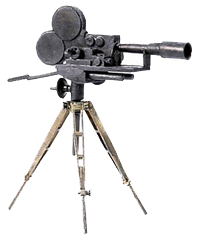 Over the last several years, Alexandre Desplat has gone from being a relatively unknown (in the United States anyway) French composer to emerging as one of the most acclaimed and sought after commodities in the business today.  Receiving his second Oscar nomination this year for "The Curious Case of Benjamin Button," Desplat has continued to cement his place at the top of his field.
Despite the acclaim, however, he remains very close to his home in European cinema.  "I have tried to keep as much of a relationship as I can with my French directors," he says.  "I always try to go to do two or three French movies a year.  That's a lot but I don't want to lose that."
While there are certainly exceptions, there is definitely a difference in the manner that French and American filmmakers approach their work, Desplat says.  Being forced to think differently because of different filmmaking styles helps his creative resources.  "It feeds me," he says.
David Fincher's "Button" posed unique challenges for Desplat.  "It doesn't have a linear storytelling," he says.  "It's a complex puzzle and I'd ask myself, 'How do you deal with this in music and deal with the main character when he is a passive character?'  It's not easy to capture in music."
Describing the film as a "sound epic," Desplat notes that the music had to be strong without being overly dramatic or imposing.  It was a crucial demand from Fincher that Desplat says he had to struggle with.
The composer has worked with some of the world's top directors in recent years – Ang Lee, Stephen Frears, Jacques Audiard — but despite Fincher's unique perspective in the wake of those talent helmers, Desplat says certain professional similarities smoothed the journey.
"He has an amazing quality as a collaborator," Desplat says. "He's very demanding but so am I so that's fine.  He's very detailed but so am I, so that's also fine.  He wants his people to bring their own world, talents and colors into the film.  I think that's the sign of a great director.  All the great directors I've worked with know that it is crucial that your creative energy is opened and not just restrained."
A common complaint among film music composers is that they are one of the last individuals to come aboard a film crew.  "Sometimes when you know the director for a long time, I come along early," Desplat says, citing his relationships with Jacques Audiard as an example.  "But sometimes you only have three weeks.  That was my experience with 'The Queen' and 'Girl With a Pearl Earring.'"
When asked how his point of hire affects his work approach, Desplat becomes reflective.  "I write music for movies because I love movies," he says.  "I like to watch and be inspired by the structure, the camera movements, the actors, the sound.  That's why I chose to write for movies.  Would I ideally like to start with the script?  Sure, but that is not to say I don't feel I can get just as much out of it – and contribute just as much to the movie – if that is not possible."
Composing is often considered one of the loneliest tasks in filmmaking, a fact Desplat does not deny.  He concedes the process is a boring one, being locked in a studio with solitary work, but he likes to be on his own.  "It's the choice I've made," he says.   "But that's why recording is crucial because then you get to share what you've done with fellow musicians."
Acclaim and awards can certainly help matters.  "It's good for your vanity," he says, "but it's not about success and prizes and awards.  It's about having the notes you write in a studio in Paris being sent around the world with a larger audience.  I really want to affect a normal person in the audience.  If you have had dreams like I had of having an American career, the first goal is always the audience.
"My parents were from France and Greece.  They met at Berkeley and got married in San Francisco.  American cinema and American culture has always been a fantasy.  It is amazing to be living it but it is not why I do what I do."
Desplat also remarks on the personal place that "Button" has for him in his career.  "It's the first picture I was offered that had the incredible crafts and storytelling of Coppola and the poetic world of Fellini," he says.  "When I was a teenager, these were the directors I most dreamed of working with, probably because Nino Rota is my favorite composer, and 'Benjamin Button' reminds me so much of both of their styles."
Desplat says he has wanted to be a composer for a long time and is thrilled to actually be living his dream.  He started collecting movie soundtracks when he was 15 or 16 and says he can remember very clearly when he received a black vinyl of John Williams' score for George Lucas' "Star Wars," sparking his career trajectory.  "This is what I want to do," he said at the time.
Though no stranger to busy schedules, Desplat will have his hands full this year as he takes on composing duties on Stephen Frears's "Chéri," Nora Ephron's "Julie and Julia," Jacques Audiard's "Un prophete," Wes Anderson's "The Fantastic Mr. Fox" and, most excitingly in my opinion, Terence Malick's "Tree of Life."  (Given the role that music plays in Malick movies, being chosen to score one is an unquestionable honor.)  He admits there will be plenty of challenges but it is clear that any nervousness is secondary to the excitement.
"Working with different directors is, of course, a different human and artistic experience each time," he says.  "My first question is, 'Will I be able to communicate creatively with the director?'  The names of Stephen Frears, Jacques Audiard, Nora Ephron, Terence Malick and Wes Anderson answer that question.  The other question I always ask is, 'Why would I write music for only one type of film?'  Cinema is a varied artform, just like music or literature.  Therefore I like to watch comedies, dramas, epics, romances, etc., and write for various types of cinema, budgets and stories as long as they have an authenticity.  Each new experience is a new challenge to stretch my artistic capacities.
"If you don't put yourself in danger, get closer to the risks and exposed to the line of fire, there is no way you can progress.  You just lose the passion."