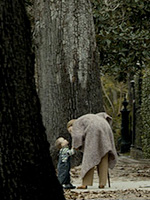 There is no good reason for me to think this, of course.  Call it a gut feeling, but I have a sneaking feeling the Academy might ignore "Slumdog Millionaire," despite its countless awards, and go for homegrown studio product this year.  Let's face it, the Academy has proven they march to their own drummer over and over again.
"Slumdog" has already become a pop culture phenomenon around North America and Britain, making far more money than the filmmakers ever thought it would. Hell, before the festival season started the film was doomed, set for direct-to-DVD distribution.  Yes, Danny Boyle has won the DGA award, a solid predictor, but I'm not convinced.  Hollywood loves to congratulate itself, which we saw in 1997 with "Titanic" somehow winning a record 11 awards over the vastly superior "L.A. Confidential."  David Fincher's "Button" has been around for years, waiting for the right director, the right effects, the right time.
So often in the past the Academy has gone for a film that is conservative and offends no one, ignoring the better work."Driving Miss Daisy" over "Do the Right Thing" (which wasn't even nominated), "Gandhi" over "E.T.: The Extra-Terrestrial," "Oliver!" over "2001:A Space Odyssey."  The list goes on and on.  "Button" is a handsomely mounted project, beautifully shot, meticulously crafted, with strong performances from the cast,and rock solid direction from Fincher.
"Slumdog" may well prevail, but as a devil's advocate, I am throwing it out there that "Button" could surprise, taking wins for both Best Picture and Best Director.  Am I crazy?