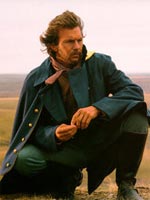 Let's get this straight: an upset and an injustice are two very different things. When a nominee that isn't widely expected to win beats one that is, that's an upset. When a highly deserving underdog loses to a less deserving favourite, that's an injustice. The latter arguably happens more frequently in Oscar history than the former, but that's no reason to blur the line.
I mention this in connection with a poll that Sasha Stone spotted yesterday, in which the following were named the biggest Oscar upsets of all time in the Best Picture category:
1. "Shakespeare in Love" over "Saving Private Ryan" (1998)
2. "Crash" over "Brokeback Mountain" (2005)
3. "Dances With Wolves" over "GoodFellas" (1990)
4. "Rocky" over "Taxi Driver" (1976)
5. "How Green Was My Valley" over "Citizen Kane" (1941)
Now I remember the 1990 awards clearly — I was 8 years old, and it was the first Oscar season that I followed keenly from beginning to end. And even I, at that tender age, knew that "Dances With Wolves" was a gimme, a slam-dunk, a no-brainer. However critically acclaimed Scorsese's masterpiece was, it hadn't a prayer against the film that swept the Guilds and the Globes — Kevin Costner enjoyed as great a stranglehold on the Oscar as Danny Boyle does today. "GoodFellas" winning would've been the upset, not the other way round.
Similarly, reading the Oscar history books will tell you that "Citizen Kane"'s loss in 1941 wasn't nearly as surprising as it was unjust — hard as it may be to believe now, Orson Welles' film was vastly unpopular in the industry, with the mere mentioning of the title at that year's ceremony eliciting boos from the crowd. And anyone who thinks that "Taxi Driver" was the favourite at the 1976 award has not only forgotten about "All the President's Men" and "Network," but the Academy's taste in general.
I'll grant "Crash" as a legitimate upset, even if a number of smart pundits saw it coming in the final stretch. (I'm sure I wasn't the only one, however, who predicted "Shakespeare in Love"'s victory back in the day — to be honest, the film essentially defeated "Saving Private Ryan" the day it topped the latter film's nomination total.)
Overall, however, the inaccuracies of the poll provide an interesting insight into how Oscar history can get distorted through shifts in public perception. Decades from now, will "Slumdog Millionaire" seem as inevitable an Oscar winner as it does today? Or will another nominee grow so much in stature that people will automatically assume it was the favourite? There's very little way of telling.