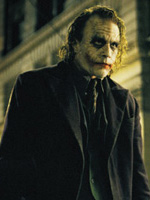 I expect the late Heath Ledger to win the Oscar for best supporting actor for "The Dark Knight," but I'm not choosing his performance as the "most elevating" out of sympathy. It was elevating for an entirely separate reason: He transformed the character of the Joker, who we thought we knew so well, into a suffering, haunted being, stripped of all emotion except for ruthless self-pity.

Exactly what wounded the Joker is hard to say (he tells conflicting stories, neither one necessarily true), but something certainly did. His role as the Joker is not performed to entertain himself, but as a necessary acting-out of turmoil. Its function as a deliberate performance is underlined by his makeup, deliberately cruder and messier than previous Jokers, as if he slops it on with anger. His laugh is maniacal.

These feelings are a tribute to Ledger, to director Chris Nolan, and to the screenplay by Nolan and his brother, Jonathan. This Batman film, while still an over-the-top comic book extravaganza, is curiously more human than before, giving greater weight to the characters as if they actually were, however impossibly, human beings.
From Roger Ebert's recent article on the "most elevating" performance of the supporting actor contenders.  More "elevated" picks can be viewed here, best-of choices including Mickey Rourke, Melissa Leo, Viola Davis and "Milk."