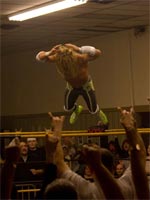 The London Film Critics' Circle have just announced their winners, and I have to say they've done a pretty terrific job. (I discussed the nominations here.) The really heartening news is that "The Wrestler" finally has another Best Picture award to its credit, five months after taking the Golden Lion at Venice — who would have thought that it'd be left to the Europeans to give this quintessential piece of Americana its due?
Naturally, Mickey Rourke took the Best Actor award too, while Kate Winslet added yet another trophy (awarded jointly for both her 2008 films) to her crowded mantlepiece. David Fincher was a somewhat surprising winner of the Best Director award, and "Waltz With Bashir" took yet another foreign-language gong.
If you're wondering where "Slumdog Millionaire" features in all of this, it ruled the roost in the British Film categories, taking Best British Film and Director, and also landing Screenwriter of the Year for Simon Beaufoy. In the British races, the Londoners like to have their cake and eat it — for example, Kristin Scott Thomas took a richly deserved award for Best British Actress, but beat Best Actress winner Winslet in the process.
Meanwhile, I'm thrilled to see Michael Fassbender getting some hardware for his staggering work in "Hunger" (which also took the Breakthrough Filmmaker prize), while in the supporting race, Eddie Marsan is another thoroughly deserving victor. Good work all round, London critics.
Full list of winners below the cut.
Film of the Year
"The Wrestler"
British Film of the Year
"Slumdog Millionaire"
Foreign Language Film of the Year
"Waltz With Bashir"
Director of the Year
David Fincher, "The Curious Case of Benjamin Button"
British Director of the Year
Danny Boyle, "Slumdog Millionaire"
Actor of the Year
Mickey Rourke, "The Wrestler"
Actress of the Year
Kate Winslet, "The Reader" and "Revolutionary Road"
British Actor of the Year
Michael Fassbender, "Hunger"
British Actress of the Year
Kristin Scott Thomas, "I've Loved You So Long"
Best British Actor in a Supporting Role
Eddie Marsan, "Happy-Go-Lucky"
Best British Actress in a Supporting Role
Tilda Swinton, "The Curious Case of Benjamin Button"
Screenwriter of the Year
Simon Beaufoy, "Slumdog Millionaire"
Young British Performer of the Year
Thomas Turgoose, "Somers Town" and "Eden Lake"
Breakthrough British Filmmaker
Steve McQueen, "Hunger"
Dilys Powell Award for Outstanding Contribution to Cinema
Judi Dench