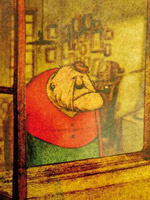 This year Magnolia Pictures and Shorts International are partnering up once again to distribute the 10 Oscar nominated short films, both animated and live action.  The package is set to release this Friday, Feb. 6 in select cities and you can also download the films via iTunes.  Check out Shorts International's official site for the films here.
I always like seeing what the world's filmmakers have cooked up in these categories, so I took an hour or so earlier in the week to have a look at the films in contention.  I have to say, it's a more impressive collective than we've seen in recent years — especially on the live action side of things, where interestingly enough, all the entrants hail from overseas.  I'll start there.
Best Short Film (Live Action)
"Auf der Strecke (On the Line)"
"Grisen (The Pig)"
"Manon sur le bitume (Manon on the Asphalt)"
"New Boy"
"Spielzeugland (Toyland)"
The German film "Auf der Strecke (On the Line)," from director Reto Caffi, has racked up an impressive tally of festival awards.  But for me it brings up the rear.  It's a somewhat derivative study of love and guilt, and there's a nice enough twist mid-way through to really drive the point home, but the film drags on a bit and, despite a captivating final image, didn't have the impact it might have.  I can't say it's not a competent piece of narrative filmmaking, however.
The French "Manon sur le bitume (Manon on the Asphalt)" from filmmakers Elizabeth Marre and Olivier Pont is a soothing elegy to life's missed opportunities and painful ironies.  First person narration provides the insights of a woman on the verge of death after a traffic accident, and at first, I was somewhat put off by it.  But what seemed to be facile early on turned into an interesting if ultimately benign exploration.
Steph Green's "New Boy," based on a short story by Roddy Doyle, is a simple yarn about a nine-year-old African student's first day at an Irish school.  The film's structure is an intriguing one, flashing back consistently to the boy's education and ultimately tragic realities back home in Africa while pushing the current story forward of a child trying to fit in.  The end result is a mixture of harshness and childhood whimsy and quite truthful as a result.
If I were to place a bet on the year's Oscar victor in the category, however, I'd have a tough time choosing between Dorthe Warnø Høgh's "Grisen (The Pig)" and Jochen Alexander Freydank's "Spielzeugland (Toyland)."
The former is a straight-forward story about a man going under the knife in hospital and growing an attachment to a certain painted depiction of a pig hanging in his room.  The image is distasteful to the family of his Muslim roommate, however, and the ensuing action slowly reveals a narrative of social importance and opens a dialogue in the most unexpected of ways.  It's my personal favorite if the bunch.
"Spielzeugland," however, will be difficult to top and might be the one to check off in your office Oscar pool.  A Holocaust drama with exceptional production values, Freydank's narrative is a fractured one, moving from a young boy who thinks his Jewish friends are being sent off to a wonderful "toyland" to his mother's frantic search for him in the streets of a German town.  But everything isn't what it seems.  It would be unfair to spoil the end result, but the film comes to a head in a dramatic fashion as heart-warming as it is heart-wrenching.
Best Short Film (Animated)
"La maison en petits cubes" (watch a clip)
"Lavatory — Lovestory" (watch the film)
"Oktapodi" (watch the film)
"Presto" (watch the film)
"This Way Up" (watch the film)
Moving to the animated entries, I think I should just say at the top, without a lot of pomp and circumstance, that this award is Pixar's to lose.  Director Doug Sweetland has been with the company since its earliest days and now is his opportunity to shine.  "Presto" is one of Pixar's most imaginative shorts to date, and that's certainly saying plenty.  It played along with "WALL-E" in theaters last summer.
But that's not to say there aren't some other interesting — and formidable — contenders in the mix.  If anything has a shot at upsetting the Pixar crew it's probably the wonderful "La maison en petits cubes."  As the water level of the world continues to rise, an old man keeps building one house on top of the other.  One day he goes diving for a lost trinket and ends up on a touching trip down memory lane.  Visually, the piece is quite Plympton-esque, but certainly not tonally.  And the accompanying score is equally beautiful.
"This Way Up" is perhaps the most bizarre film of the bunch, depicting a pair of undertakers on a bizarre course for their client's grave site.  The film makes a twisted shift in action and tone three quarters of the way through and ends in a mad-cap sort of way that's almost skewed enough to be brilliant.
"Oktapodi" is a brief but exhilarating romp.  Quite simply, an octopus sets out to rescue his loved one from the clutches of restaurant delicacy.  But the fun is in the action, which certainly got it this far with exemplary animation and a bright sense of humor.
Finally, probably the least impressive of the mix, for me, is "Lavatory Lovestory," a black and white short conveying the drama of its title.  Longing for romance, flowers showing up mysteriously, bathroom attendants finding love, the end.  Not a lot there but it's cute enough.
So there we have it.  Like i said, if I were to bet on Oscar winners, I'd go with "Spielzeugland" and "Presto," but each has a competitor lurking for an upset.  The short films are decided by committee, which means each voting member has to sign in after watching the set.  Just based on my own reaction to a back-to-back viewing of the material, those are the ones my gut is telling me will come out on top.
Again, Magnolia Pictures and Shorts International will be releasing all 10 films Friday, Feb. 6 in select cities.