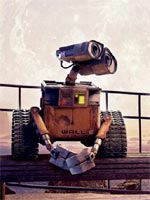 I think it was some smart person on Nat Rogers' most recent podcast who remarked that if you really want to get a picture of what was going on cinematically in any given year, you'd be better off bypassing Oscar's Best Picture category and heading straight for the Best Original Screenplay nominees – a category that has a far higher tolerance for eccentricity, controversy and the occasional foreign tongue than any other.
Case in point: 2002. When the top categories were splintered between the respectable but less-than-relevant likes of "Chicago" and "The Pianist," Original Screenplay afforded voters the luxury of choosing between Pedro Almodovar, Todd Haynes and Alfonso Cuaron. Two years later, the category gave recognition to the otherwise shamefully sidelined "Eternal Sunshine of the Spotless Mind," just as, a decade earlier, "Pulp Fiction" fans sought refuge there from a merciless shower of Gump. As I've said before, from "Citizen Kane" to "The Crying Game," Best Original Screenplay tends to be the connoisseur's favourite Oscar category.
And so it is this year, when the writers' branch really demonstrated admirable ingenuity and adventurousness in their selections, in the face of some otherwise uninspired voting. For me, it's by far the most exciting of this year's major Oscar categories, both for the calibre its competition and the unpredictability of its outcome. It's one category where the Guild award is of little to no use to prognosticators, as only one title ("Milk") features on both the Oscar and WGA lists.
Like Kris, I'm placing my money on Andrew Stanton, Jim Reardon and "WALL-E" emerging triumphant here, and thus becoming the first animated film in Oscar history to win a major category. This morning, meanwhile, I was interested to see that the majority of the Gurus of Gold are thinking the same way. It's a healthy vote of confidence for a prediction that, let's face it, would represent a significant leap for Academy voters. Just last year, the Reel Geezers (AMPAS members both) immediately discounted "Ratatouille" from consideration in the category because it was a "cartoon." How do we know that most of the notoriously conservative Academy voters won't feel the same way?
The seemingly safer bet would be Dustin Lance Black for "Milk." It's a serious-minded, "important" work that clearly has a significant following in the Academy, while Black himself has a young, hip cache that could easily work in his favour. (Just this morning, Tom O'Neil pointed out a faintly queasy Vogue Homme photo spread juxtaposing a shirtless Black with Harvey Milk himself.) Why bet against it?
Many are expecting Black to win simply because "Milk" is the lone Best Picture nominee in contention. That's somewhat faulty reasoning. It's true that two decades ago, the Academy regularly applied such lazy logic to the category, with scripts as unremarkable as "Places in the Heart" or as frankly feeble as "Ghost" (arguably the category's low point) winning seemingly because of the lack of Best Picture-nominated competition.
But at some point in the 90's, voters wised up and began digging a little deeper, separating the achievement of the screenplay from that of the film. It began with non-BP nominee "Thelma and Louise" beating off the multi-nominated "Bugsy." Five years later, "The Usual Suspects" got the better of the ultimate Best Picture winner, "Braveheart." Since then, we've seen "Almost Famous," "Talk to Her" and "Eternal Sunshine" all prove that a Best Picture nod is no prerequisite for victory in this category, but that a distinct writerly sensibility is.
And it's the latter factor that I'm not convinced "Milk" has. I know I'm not the only one to think that the film's prosaic, slightly stodgy screenplay is the weakest element of an otherwise solid film, but even those who are more forgiving would be hard pressed to admit that Black's work is as rich or inspired as Gus Van Sant's direction, or the superb ensemble playing. What links many recent winners in the screenplay category, from Almodovar to Charlie Kaufman to Diablo Cody, is a singular writerly voice or imagination that pervades and characterises the entire work — and as faithfully as Black recreates the times, moods and speeches of Harvey Milk, the relatively green scribe doesn't stamp much of a creative identity on the piece.
Black's competition, however, teems with writerly invention and idiosyncrasy. I suspect "Frozen River" writer/director Courtney Hunt may have been nominated more as an overall acknowledgment of the challenges involved in bringing her tiny movie to fruition than the specifics of her writing, but it's a notably lean, full-bodied piece of storytelling nonetheless. Meanwhile, acclaimed playwright Martin McDonagh's "In Bruges" is very much a writer's piece, bristling with literary ironies and killer dialogue.
My own favourite in the category, Mike Leigh's "Happy-Go-Lucky," is a linguistic tour-de-force, its creator's ear immaculately attuned to the nuances and tensions of human conversation and argument. (Those who say Leigh shouldn't contend in this category because his films lack a formally written screenplay have an over-simplified understanding of his creative process: as Sally Hawkins remarked in our interview, "every beat, breath and gesture is accounted for.")
As much as I wish it weren't the case, those three nominees are probably too boutique in their appeal to win over the general Academy membership (though I'd give the long-overdue Leigh the best chance of scoring a stunning upset). "WALL-E," however, represents a tempting compromise for the Academy: a chance to reward an unashamedly populist title that nonetheless has immense critical cache and, in the shape of Andrew Stanton, something of an auteur identity.
Wordless as its first half may be, one can't fail to notice how intricate and disciplined the visual storytelling is, nor can one deny the film's major achievement in building a credible and empathetic relationship between two characters as limited in vocal and gestural capacity as WALL-E and EVE. As a feat of writing, I would say it's a far more challenging and ambitious achievement than the "Milk," and, given the film's impressive nomination haul across the board, I suspect many Academy members may well respect that.
The anti-animation bias of certain Academy is still a concern, but I can't help feeling that the barrier has to be broken at some point. We'll never know just how close "WALL-E" got to a Best Picture nomination, but I suspect it was Pixar's nearest miss to date. Meanwhile, this represents the fifth showing in this category for a Pixar production – could a win here for "WALL-E" count as a cumulative recognition of the company's astonishing creative rise in the past thirteen years? Finally, in a year that will likely see "Waltz With Bashir" become a history-making winner in Foreign Language category, the Academy may just see the significance in making 2008 a banner year for a long-ghettoised artform.
Moreover, in a year when the Academy has taken a great deal of flak for once more sidelining populist filmmaking, this represents an opportunity for them to claw back some public favour, not to mention a certain degree of "coolness," while simultaneously throwing a major award to the year's most critically-adored film. It's potentially a rare win-win decision, one which would meet with precious little disapproval from any faction, and I think they'd be unwise to pass it up.