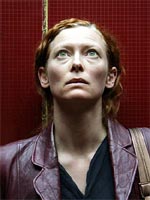 I have to hand it to the Evening Standard Awards: they are a breath of fresh air in a suffocating awards season. While their choices can have a bit of an over-democratic, drawn-from-a-hat feel to them (Stephen Daldry for Best Director? On what planet?), they are never afraid to veer from the herd.
And so they have done this year, justly and imaginatively handing their Best Film prize to Steve McQueen's magnificent "Hunger" at last night's London awards dinner. It's a small but prestigious citation for the film, voted as it is by a panel of leading British critics, including Standard stalwart Derek Malcolm and the Telegraph's excellent Tim Robey.
If you ask me (which no one did, but I'll say it anyway), they royally fluffed Best Actor, curiously settling on a tie between Michael Sheen and the admittedly very good Pat Shortt, which rather embarrassingly left Michael Fassbender — easily the most deserving nominee — the lone loser.
They redeemed themselves, however, with an inspired choice in Best Actress. Bypassing the obvious Kate Winslet option, they instead honoured Tilda Swinton for her extraordinary, bruising work in "Julia," which I'm beginning to think may well be the thesp's finest performance to date. (No mean feat, that.) The fact that BAFTA essentially handed Swinton a nod for just showing up in "Burn After Reading," but failed to even longlist her for "Julia," is yet another reason why we shouldn't even be paying attention to that particular shindig this year. (But hey, tune in for my BAFTA live-blog on Sunday!)
Elsewhere, Martin McDonagh racked up another screenplay win, filmmaker Joanna Hogg deservedly took the Newcomer award (beating Dev Patel in the process), and the wonderful Sally Hawkins pipped co-star Eddie Marsan (now wouldn't that have been a good tie opportunity?) to the Peter Sellers Award for Comedy. (I still wouldn't quite call "Happy-Go-Lucky" a comedy, but let's not split hairs.) Yep, the best performance of 2008 still won't go away, no matter what the Academies on either side of the Atlantic think.
Mike Leigh, meanwhile, bagged a career achievement award. Full list of nominees and winners (in italics) after the cut.
Best Film
"Frost/Nixon"
"Hunger"
"Unrelated"
Best Director
Danny Boyle, "Slumdog Millionaire"
Stephen Daldry, "The Reader"
Lenny Abrahamson, "Garage"
Best Actor (tie)
Michael Fassbender, "Hunger"
Michael Sheen, "Frost/Nixon"
Pat Shortt, "Garage"
Best Actress
Samantha Morton, "Mister Lonely"
Tilda Swinton, "Julia"
Kate Winslet, "The Reader" and "Revolutionary Road"
Technical Achievement
Roger Deakins, cinematographer of "No Country For Old Men", "In the Valley of Elah" and "The Reader" (with Chris Menges)
Mark Digby, production designer of "Slumdog Millionaire"
Joe Walker, editor of "Hunger" and "The Escapist"
Best Screenplay
Martin McDonagh, "In Bruges"
Mark O'Halloran, "Garage"
Peter Morgan, "Frost/Nixon"
Most Promising Newcomer
Director Joanna Hogg, "Unrelated"
Actor Dev Patel, "Slumdog Millionaire"
Writer-director Rupert Wyatt, "The Escapist"
Peter Sellers Award for Comedy
Actress Sally Hawkins, "Happy-Go-Lucky"
Actor Eddie Marsan, "Happy-Go-Lucky"
Documentarist Chris Waitt, "A Complete History of My Sexual Failures"
Alexander Walker Award
Mike Leigh