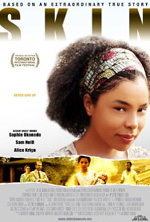 One of the films I caught during the recent Santa Barbara International Film Festival but neglected to mention was Anthony Fabian's "Skin," the true-life story of Sandra Laing, a black girl born to white parents in Apartheid era South Africa.
The film has been bouncing around the festival circuit — Toronto, Rio de Janeiro, AFI — but despite landing buyers in a few foreign markets, American distributors have shied away.
"Skin" boasts solid performances from Sophie Okonedo and Sam Neill.  It's quite accessible and is the kind of thing you'd expect a dependent to pick up without blinking.  I wasn't blown away by the film or anything, but it's certainly marketable.  So what gives?
Well Fabian's film somewhat surprisingly took the Audience Award in Santa Barbara over the weekend, it's first gong so far.  I expected something like "C'est pas moi, je le jurre!" to win the award, or one of the Asian dazzlers, like "Suspect X," each of them audience favorites during the fest.  But "Skin" made its stand.
Maybe those domestic buyers will come calling now.