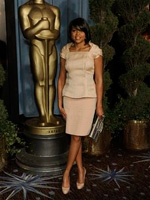 Today is the big Academy luncheon for this year's Oscar nominees.  The AP's Sandy Cohen and The Carpetbagger's Michael Cieply are filing from the event.
This is one of the most fascinating aspects of the season for me because of the varying personalities you find mingling together.  Right now, M.I.A. is chowing down with Kate Winslet (assuming they both showed up).  An interesting picture.
It reminds me of three years ago when I couldn't help but ask the guys from Three 6 Mafia what they thought of the luncheon, rubbing elbows with everyone from Steven Spielberg to Reese Witherspoon.  The quote I wrangled didn't disappoint:
I was thinking, 'What am I doing here?' You know, you're used to sitting in the studio with a bunch of guys drinking beer and smelling like something they shouldn't be smelling like, and then you pull a switcheroo and you're in Hollywood in a room with Steven Spielberg and Reese Witherspoon. And she's sexy, man.
I laugh every time I read that.