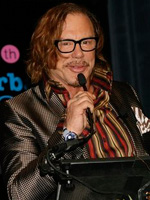 Mickey Rourke landed in Santa Barbara tonight to accept the final award of the festival, the American Riviera Award.  The on-stage Q&A/career retrospective was moderated by Pete Hammond and presented a swift trip through the actor's portfolio of impressive performances, making me want to revisit films like "Rumble Fish" and "The Pope of Greenwich Village," or finally get around to those I've never seen, like "Year of the Dragon" and "Animal Factory."
Michael Cimino's "Dragon," in fact, was the beginning of Rourke's downward spiral in Hollywood, the actor said.  After reading some lacerating reviews that seemed to be more interested in attacking Cimino (in the wake of the "Heaven's Gate" disaster) rather than the film, Rourke started to become disenchanted.  The seeds were actually planted when Francis Ford Coppola's "Rumble Fish" wasn't well-received here in the states and picked up steam with the critical reception of "Dragon."
The conversation was a fascinating one, and really, anyone who spends more than five minutes talking to the guy is bound to hear a couple of great stories or some particularly revealing insights.  Rourke touched on his beginnings at the Actors Studio in New York, where he befriended Christopher Walken and paid the bills working at a transvestite club (an experience that would come in handy when Steve Buscemi would direct him in "Animal Factory" 20 years later).
He also mentioned, as I believe he's noted elsewhere, that he believes Adrian Lyne (who directed Rourke in "9 1/2 Weeks") may be the most underrated actor's director out there and that Eric Roberts remains one of the best actors he's ever worked with.  And he offered some nice sentiments for fellow Oscar nominee Michael Shannon, who co-stars with Rourke in the upcoming remake "13."
Never one to tip-toe around the truth, Rourke said the "Sin City 2" rumors are just that and that he has no plans of taking on the role of Marv again.  If director Robert Rodriguez were to whip something up, however, he'd be happy to talk about it.  And Hammond basically got him to admit he was coerced away from participating in the WWE's WrestleMania in April.  "I have people I should listen to now," Rourke said, "so I'm listening to them and trying to keep it all about the acting for now."  Good man.
The big surprise for most was when Coppola showed up to present the award.  The place went nuts.  Rourke was gracious in his acceptance speech, using the occasion to call "The Godfather" the greatest film ever made (he still marvels at the fact he was ever able to work with Coppola) and was clearly moved by festival director Roger Durling's heartfelt opening comments (noting Rourke as his childhood hero and his history of mistakes as emblematic of his humanity).
The after party a few blocks south on State Street was held at a bank, of all places, but it was the spot to be.  Coppola was on hand for a spell, eschewing the tight VIP area in favor of mingling with the crowd before heading home for the evening.  Rourke sat next to me delighting in photo ops, hanging with his Hell's Angels pals, as well as the night's most peculiar guest, Christopher Lloyd (a Santa Barbara resident).  I didn't have much to say that we haven't already talked about, so I shook his hand and merely offered: "I hope you win the Oscar, buddy."
The festival wraps up tomorrow morning with a press conference to announce the week's big winners.  Then it's back to Los Angeles and some little sporting event in the afternoon I heard about.  It's been a nice time away from the fray, however, but it beckons from afar.
(As an aside, I caught Rourke's latest film, "The Informers" — which recently played at Sundance — just before tonight's tribute.  I have to say, I strangely loved it.  It's a bizarre, twisted yarn, Bret Easton Ellis reliving his "Less Than Zero" days, and Rourke has maybe four minutes of screen time.  But it was oddly appealing.)