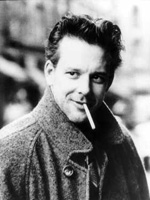 After screening "The Wrestler" again recently, I realized just how much I have missed the work of Mickey Rourke in movies. There are some actors that are consistently interesting, those that we enjoy watching because we just know they are going to give us something we have not seen before. Jack Nicholson does this, as does Sean Penn, Johnny Depp and Dustin Hoffman, each artist giving us something extraordinary with each new performance, and often even in failure, growing as artists.
Rourke was discussed in the 1980s as Marlon Brando was in the 1950s, the next great actor. His work in "Diner" was nothing short of spectacular, but it was his small role as Teddy the arsonist in "Body Heat" that told me Rourke was going to be something quite incredible. As a firebug saved from charges by his lawyer Ned (William Hurt), he never once raised his voice.  In fact, he spoke so softly, with such gentle tones it was alarming to realize what he was. He pulled the audience in just as he pulled William Hurt to him to share his secrets.
Rourke had what the great Pauline Kael called "bite-you-on-the-nose talent" and I could not wait for his next role.
He went on to other roles, giving superb performances for Francis Ford Coppola in "Rumble Fish," perhaps the most under-appreciated of Coppola's work.  Rourke portrayed a character known only as The Motorcycle Boy.  Rourke brought an exhausted nobility to the role that was heartbreaking to watch.
In "The Pope of Greenwich Village" he shared the screen with the explosive Eric Roberts (another 1980s acting genius) as cousins who steal from a mobster and are forced to pay the price. Rourke was the film's emotional anchor while Roberts was wildly over-the-top (but it worked) in a film that again was sadly under-appreciated.
1987 was a golden year for Rourke as he dazzled us twice.  In a powerful performance in the controversial "Angel Heart," Rourke was cast as a gumshoe looking for a man, hired by a mysterious fellow who proves to be much more evil than we first realize.  The actor went toe-to-toe with Robert De Niro and did just fine. His final scene, when he realizes who he is and what has taken place, is startling in its raw animal power.
That same year he gave an Oscar caliber performance as a drunken writer in "Barfly" opposite Faye Dunaway. Rourke dug down deep for this work, portraying the greasy, grimy, filthy character to perfection. How odd that this would become a foreshadow of where his life was headed within a couple of years.  He was recognized with an Independent Spirit Award nomination.
Twice Rourke has worked with Michael Cimino, the first time in "Heaven's Gate" (a small part), the second in "The Year of the Dragon" in which he gave an astounding performance as a racist New York cop, Stanley White, who has declared war on Chinatown. Though the film is heavy-handed, Rourke is astonishing in the film and should have been nominated for an Oscar.
In lead or supporting roles, it doesn't matter, Rourke is an exceptionally gifted actor. His long climb back to respectability has brought him some shame, which he has faced and dealt with as best he could. He knows what he threw away, which might explain why he is so grateful to be back.
As Marv in "Sin City" I thought Rourke was incredible, but it was hard to see him under all that makeup. In "The Wrestler," he is most present, for better or for worse as Randy "The Ram" Robinson. This is a major piece of acting, one that deserves to be discussed in the same sentence as Brando in "Last Tango in Paris," Jack Nicholson in "One Flew Over the Cuckoo's Nest,: De Niro in "Raging Bull," Daniel Day-Lewis in "There Will Be Blood," etc.  Rourke slithers under the skin of this character and inhabits him in every way, from head to toe, from the inside out.
One of the reasons Rourke is so superb in the film is that he has lived this life in many ways. He knows what it is to be down and out, to have what you are truly good at taken away, and at the end of it all to have no one to blame but yourself. I imagine making this film must have allowed Rourke to rid himself of some demons.
Since seeing the film for the first time last fall at the Toronto International Film Festival, I have come back to it five times.  I've listened to many debates with other critics and film folk. Some feel that Rourke has made too enemies to be celebrated with an Oscar, that a lot of people simply do not want the man back in the business. Others feel Hollywood is a forgiving town and that Rourke is about to be welcomed back with open arms.
At the end of the day, does it matter if he wins? Some of the greatest performances in film history have not won Oscars. What matters to me is that Mickey Rourke is back on the screen, and Oscar or not, I am thrilled with that, because once again we are permitted to watch him perform.  Jimmy Stewart's work changed visibly after he returned to Hollywood from the war.  And Rourke has been through his own war.  Perhaps we are the winners for that.
We missed you.