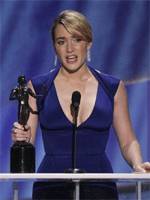 I'm not sure where I stand on David Thomson these days. He is surely one of the greatest film writers still at work today; few of his rivals manage such a fine balance of personal appreciation and critical insight, particularly in the area of performance. (As a prose stylist, Thomson at his best leaves Ebert for dust, in my opinion.) His "Biographical Dictionary of Film" is as essential as it is idiosyncratic, while last year's "Have You Seen … ?" is a bedside-book delight, ideal for dipping in and out of at leisure.
But in recent years, his work has grown increasingly sloppy and, in some cases, frankly unhinged. His further "Biographical Dictionary" entries for the Guardian have been spotty and back-handed of late, but the clincher was his factually malnourished and unavoidably creepy 2006 "biography" of his long-time cinematic crush, Nicole Kidman, which paid stomach-churning tribute to the Australian's "commas of breast" and "gingery pubic hair." An embarrassment for all concerned, it truly has to be read to be believed.
It's difficult to say, then, whether it's good or bad news for Kate Winslet that Thomson appears to have set his sights on her instead, writing an extraordinarily generous tribute to her in today's Guardian, calling the actress "the finest performer of her generation," and waxing lyrical about her performance in "The Reader" ("easily the best and most disturbing film of the year"). It is, in fairness, a civil and intelligent appreciation for the most part, after an eccentric opening that focuses on her, er, feet:
Near the end of The Reader there is a large close-up of two bare feet … The feet are less than lovely – mottled, calloused, the toenails out of shape, everything well-worn. My wife opined, "They can't be Kate Winslet's feet – must be a stand-in, a foot-in. Perhaps they are Sam Mendes's feet, and he did the shot so she could have a lie-in."

Not to disparage the consideration and fondness between Mendes and Winslet, husband and wife, director and actor, I preferred to think that Winslet is too much the perfectionist to let false feet into her picture. "She'd have been up at four in the morning," I said, "getting the make-up people to give her the opposite of a pedicure" … I assume that Winslet would take any trouble, from the tips of her broken toes to the proper split ends in her elderly German hair. "Would Meryl Streep entertain anyone else's feet?" I asked my wife. She agreed not. And that is the standard here: Kate Winslet is the heir to Meryl Streep.
He goes on to discuss the more interior aspects of the performance, as well as praising her work in "Revolutionary Road." On the latter, he delivers another unkind dig at "boy-man" Leonardo DiCaprio, suggesting that Winslet possesses the "life experience" that he lacks, letting the film "mean much more than DiCaprio's  eyes seem to comprehend." (As a fan of DiCaprio's performance, I would venture that he has missed the entire point of DiCaprio's casting here.)
Further on, treating Winslet's Oscar as a fait accompli (which it pretty much is, after all), he concludes that she has finally reached the top echelon of Hollywood leading ladies, adding a telling, ungrounded sideswipe at his (formerly?) beloved Kidman:
The Oscar will make Winslet one of those actors likely to see the best scripts early – but she has serious rivals in Cate Blanchett and even Nicole Kidman (who was actually the first casting for The Reader). It's tough to imagine Kidman blooming in the very harsh air that Winslet breathes as Hanna Schmitz. Kidman likes to be liked and she wants to be pretty. Still, the more clearly Winslet becomes a lead actor in big American pictures, the more likely she is to face the test between being liked and being good and dangerous.
I'm sorry, did he say Kidman prefers to be "liked" and "pretty" on screen? Has he forgotten "Margot at the Wedding" already? "The Hours?" "Fur?" "To Die For?" Hardly lovable roles, any of 'em. I understand she's not the most popular and/or bankable woman in Hollywood right now, but this relentless pile-on has to stop. I'm interested, however, that he brings up the matter of Kidman's initial casting in "The Reader," as I've long wondered her tense, discomfiting froideur might have served the role, and the film, more effectively.
In any case, I bring up this article mainly as an example of the wall-to-wall media coverage Winslet has managed to attract this year. Not once in any of her five previous nomination years has the actress's presence been so ubiquitous, starting with that cleverly targeted Vanity Fair profile (wherein she openly expressed her hunger for awards), moving through the open satire invitation of her Golden Globe meltdown, to the surprise coup of "The Reader" last week.
It's hardly been calculated, but it's a brilliant campaign nonetheless. Whether by accident or design, she's plainly, as Thomson declares, the "new first lady of Hollywood." Just watch out for the backlash. You only have to ask Nicole Kidman.