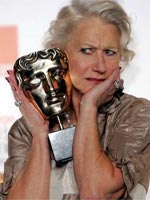 Interesting. Variety reports that BAFTA is to re-evaluate its voting process — and it appears to be a direct response to the widespread criticism that greeted this year's nominations, which baffled pundits and industry folk alike with some questionable inclusions (Tilda Swinton, Freida Pinto, a whopping eight nods for "Changeling") and equally baffling snubs (most notoriously, a hurtful donut for Mike Leigh's widely acclaimed "Happy-Go-Lucky").
To begin with, one needs to understand the eccentric, back-and-forth nature of BAFTA voting. The first round of voting produces a longlist of 15 contenders in each category — 5 of which are selected by the relevant branch (or 'chapter') of voters in that field (and marked as such on the ballot), with the other 10 chosen by the general BAFTA membership.
The next two rounds of voting work in a reversal of the Oscar system. The 5 nominees are determined by the general membership, while the winners are decided by the relevant 'chapter' voters alone — with the exception of Best Film, Best Foreign Language Film and the four acting awards, for which all members vote.
Confused? I don't blame you. It's a ludicrous system that has received a lot of flak in the industry (Mike Leigh himself has been a vocal critic in the past), not least because it frequently leads to some inexpertly chosen nominees. (This, for example, is how a film like "Mamma Mia!" lands a Best Score nod.) The obvious solution, then, would be to use 'chapter' voting to determine the nominees, right?
Wrong. Weirdly, BAFTA seems to feel that 'chapter' voting actually exerts too much influence on the nominees, and is reviewing their role in that regard. The reason? On this year's longlists, the five contenders marked as the 'chapter' choices wound up as the final nominees in all but four cases. In the acting categories, the general membership preferred Dev Patel and Freida Pinto to the acting branch choices, Michael Sheen and Viola Davis. Similarly, in the animated category, "Waltz With Bashir" displaced "Kung Fu Panda."
Okay, so the latter was a good call. (Though if last night's travesty is anything to go by, it seems animators reeeeaaally love the Panda.) But overall, is it surprising that the general membership would, by and large, support the opinion of a group of experts in any given field — or possibly be guided by their choices if they have no idea themselves?
For my money, the best thing about the BAFTAs is that, while the nominations can be a bit of a mess, most of the winners are determined by more informed voters. This has resulted in any number of smart, inspired technical choices in recent years: "Mulholland Drive," "City of God" and "Eternal Sunshine of the Spotless Mind" all won for Editing, for example, while the Director category frequently throws up such pleasant surprise champs as Baz Luhrmann ("Romeo + Juliet") or Pedro Almodovar ("All About My Mother"). With that in mind, I'd encourage BAFTA to give 'chapter' voting as much sway as possible.
Of course, even that wouldn't be perfect. The 'chapters' themselves showed some pretty bland taste this year in certain areas, particularly as challenging, quality homegrown fare like "Hunger" and "Happy-Go-Lucky" failed to dent the voting at all, even at the longlist stage. As BAFTA strains to be more of an Oscar precursor with each passing year, it seems their failings of taste and credibility run ever deeper.
It's encouraging that BAFTA has at least recognised that there are problems here, but I don't think they have been successfully diagnosed yet. For now, it appears to be yet another case of placing a bandage on a broken arm.