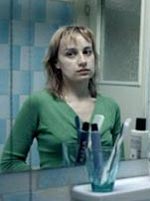 The BBC Four World Cinema Award is an endearingly unassuming, low-fi ceremony — so unassuming and low-fi, in fact, I'd forgotten it took place until I happened upon the TV broadcast earlier this evening. (It seems nesting on a Saturday night has the odd advantage.)
It's a simple enough prize. UK critics elect a shortlist of the five outstanding foreign-language releases of the year, upon which a jury of industry figures convenes to choose to best of them. The award is now in its sixth year: previous winners include "Belleville Rendezvous," "The Return," "Downfall," "The Death of Mr Lazarescu" and "Pan's Labyrinth." This year's list, heavy on 2007 films that only received a UK release last year, went as follows:
"4 Months, 3 Weeks and 2 Days" (WINNER)
"The Diving Bell and the Butterfly"
"Gomorrah"
"The Orphanage"
"Persepolis"
Jury head John Hurt said the verdict was unanimous. Not a very surprising, or very arguable, result — though with a list of that calibre, it's hard to go wrong. (Only "The Orphanage," I think, is a little out of its depth here.) By the way, can you spot what the five shortlisted films have in common? Yep, all were either snubbed or ineligible for the foreign-language Oscar. Make of that what you will.
Meanwhile, Werner Herzog picked up a lifetime achievement award and gave one of the most eloquent speeches I've heard all season. I know he doesn't really have a shot in hell, but I'd sure love to see him on the Oscar stage. (EDIT: If you're interested, you can watch the ceremony here.)