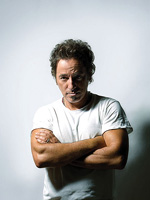 I haven't really dug into the stinging Bruce Springsteen snub from eight days ago properly yet, but really, how off-the-mark could the Academy possibly be?  Not that the membership considers itself in the business of appearing relevant, but The Boss just played in front of the Lincoln Memorial in Washington, D.C.  He's got a new album out as of Tuesday (though admittedly one of his weakest to date).  He'll be performing in front of one of the largest audiences in the country tomorrow.
Oh yeah, and his song was clearly the best "original song" from a movie this year.  One that combines the ethos of the central character and the performer in such a way that its existence over a credit roll simply shouldn't have been a factor.
Way to miss the boat.
Of course, I thought this was going to be his second Oscar.  And maybe I'm biased, since I worship at Springsteen's altar.  I've seen him play four times, once in London, and the guy simply puts on the best show in rock and roll.
This would have been a fine way to prove yourself in the groove of what's now, fresh, tangible.  I love the nomination of "O…Saya," mind you.  I think it's a much, MUCH better choice than "Jai Ho" (which never spoke to me), and of the nominees, the M.I.A./A.R. Rahman track is, I feel, the best of the lot.  And it's hard to argue with "Down to Earth," the likely winner (I'd imagine), but good lord.
Am I alone here?