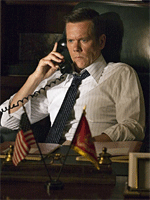 There are few journalists with as sharp an understanding of the tunnel vision that affects award-season coverage as David Carr.  So it's with a guard of irony that, in yesterday's ruminative NYT piece, he describes this year's race as "somehow less frivolous than it has (been) in recent years."
While he acknowledges the comparative slightness of the Oscars against such events as Obama's inauguration and the global financial crisis, he feels that the awards, and more particularly, the films being awarded, have a clearer collective sense of purpose — and resonance — this year:
Consumers who are motivated by the laurels heaped on these films to plunk down increasingly scarce disposable income will leave the movie house with the message that circumstance is just that, and no match for the indomitability of human will. The films are built on individual successes — kids from the slums who better themselves, a television celebrity who finds his inner newsman, a newborn who overcomes old age and the midlife closeted man who steps into the light — that accrue to the greater good. That message, that darkness can be overcome by individuals working for the common good, is not so distant from the current collective impulse.
I think it's an intelligent point, but a flawed one. Carr may refer to this year's nominees as "the filmed stories that have captured the public's attention," but the fact is that, in at least two cases, they haven't. Carr already marks "The Reader," the gloomiest and lowest-grossing of the Best Picture nominees, as an exception to his argument, but "Frost/Nixon" hasn't fared much better commercially. In his recent chat with Charlie Rose, David Denby astutely pointed out that Ron Howard's film rather overstates the relevance of an event that amounts to little more than an interesting historical footnote — and its $12 million gross so far suggests the public agrees.
Meanwhile, the vast numbers in which the American public flocked to something as bleak as "The Dark Knight" in 2008 suggests that their appetite for uplifting underdog stories isn't as great as the Academy's. I'm not saying that this points to an opposing movement either — after all, optimistic entertainments like "WALL-E" and "Mamma Mia!" also did gangbusters business this year. As with the Oscar voters, trying to extract clear-cut trends from cinemagoers' fickle tastes can be an unrewarding task.
If the Academy really wanted to reflect the public's "collective impulse," they could have nominated any of the three aforementioned films. But they didn't. Neither did they particularly warm to critics' favourite "Happy-Go-Lucky," which arguably contains more against-the-odds joy, not to mention social currency, than the five Best Picture nominees combined. As a pared-down synopsis, "darkness overcome by individual working for the common good" fits Mike Leigh's film rather snugly, as it does another critically beloved indie, "The Visitor."
At opposite ends of the commercial and aesthetic scale, but united by critical adoration, I would venture that "Happy-Go-Lucky" and "The Dark Knight" are more attuned to the current zeitgeist than several of the films nominated in their stead. That they weren't nominated in the top fields doesn't really say anything, besides the fact that the Academy favours the same brand of tasteful, faintly starchy and aggressively campaigned December prestige product that they always (or at least often) have.
Meanwhile, the one nominee that most veers from that model is the one that will likely triumph on February 22, perhaps partly due to its "message," but more likely because it simply looks and feels different from the less-than-thrilling competition. With all due to respect to Carr, I have to disagree with him on this one — this year's Oscar race is as frivolous as any other.